6 Biggest Apple Stories of 2014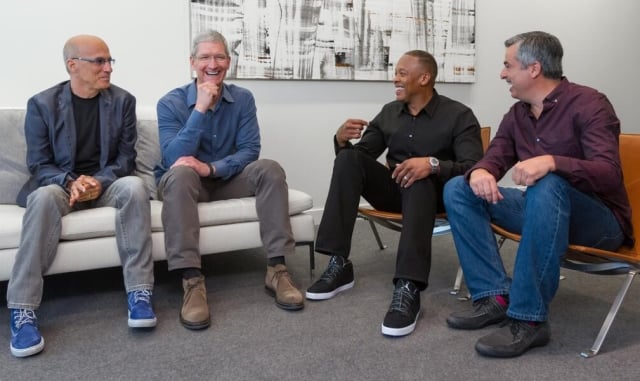 While we've no doubt that Apple will amaze us with new products and other surprises in 2015, the California-based tech company will have its work cut out for it if it wants to top this year's stories. Now that 2014 is almost over, we thought this would be an opportune time to look back at some of the biggest product releases, rumors, and other news stories involving Apple over the past year. Here are six of the biggest Apple stories from 2014.
1. Beats Acquisition
Apple stunned analysts and customers alike when it announced in May 2014 that it was purchasing premium headphone maker Beats Electronics along with the nascent Beats Music subscription music streaming service. In a press release, Apple revealed that it would purchase Beats for a total of $3 billion, including approximately $400 million that will vest over time. The $3 billion price tag of Beats made it the most expensive acquisition in the company's history, easily surpassing the $400 million that Apple paid for NeXT in 1997. The acquisition was finalized during the company's September quarter.
"Music is such an important part of all of our lives and holds a special place within our hearts at Apple," said Apple CEO Tim Cook. "That's why we have kept investing in music and are bringing together these extraordinary teams so we can continue to create the most innovative music products and services in the world."
According to NPD Group data cited by Re/code, the Beats Electronics premium headphones business has a 61% share of the revenue in the premium ($100-plus) headphone market in the U.S. However, Apple may have been most interested in the company's unique curated subscription music streaming service. According to unnamed sources cited by the Wall Street Journal, worldwide digital download music sales through the iTunes Store have slipped 13-14% since the beginning of 2014, while the on-demand audio streaming market grew by more than 50% during the first six months of 2014, according to the Nielsen Entertainment & Billboard's 2014 Mid-Year Music Industry Report.
Beats co-founders Jimmy Iovine and Dr. Dre also joined Apple as part of the deal. Forbes recently revealed that the Beats acquisition made Dr. Dre the highest paid musician of 2014 with an income of $620 million this year.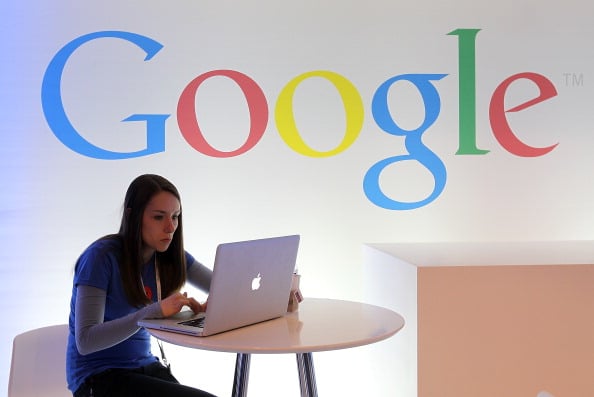 2. Patent war truces with Google and Samsung
Over the past several years, Apple has been engaged in multiple high profile patent-infringement battles with various companies over alleged similarities between its products and the ones made by rivals like Google and Samsung. Many of Apple's patent-infringement complaints have involved alleged similarities between the open source Android operating system and iOS, or design similarities between the iPhone and smartphones made by competitors like Samsung. While Apple has prevailed in many of these cases, including a $119.6 million damages award it secured against Samsung in May of this year, the so-called "smartphone patent wars" have generally been seen by most industry watchers as a costly financial drain on all companies involved.
Not long after Apple won its last patent-infringement case against Samsung, it announced the ending of its lawsuits against Google. "Apple and Google have agreed to dismiss all the current lawsuits that exist directly between the two companies," said the two tech giants in a joint statement provided by the Financial Times. "Apple and Google have also agreed to work together in some areas of patent reform. The agreement does not include a cross license."
Three months later, Apple announced a similar truce with Samsung, the biggest manufacturer of Android-based smartphones in the world. "Apple and Samsung have agreed to drop all litigation between the two companies outside the United States," said the companies in a joint statement obtained by the Wall Street Journal. "This agreement does not involve any licensing arrangements, and the companies are continuing to pursue the existing cases in U.S. courts."
In November, Rockstar Consortium — an Apple-backed patent assertion entity — agreed to settle a series of lawsuits that it filed against Google and various smartphone makers over claims that the Android operating system was infringing on several of its patents, reports Reuters. While none of these agreements completely put an end to all of Apple's patent-infringement litigation, the moves suggest that the iPhone maker is beginning to wind down the overall smartphone patent war that is increasingly being seen by the industry as a drag on technological innovation and an unnecessary financial burden.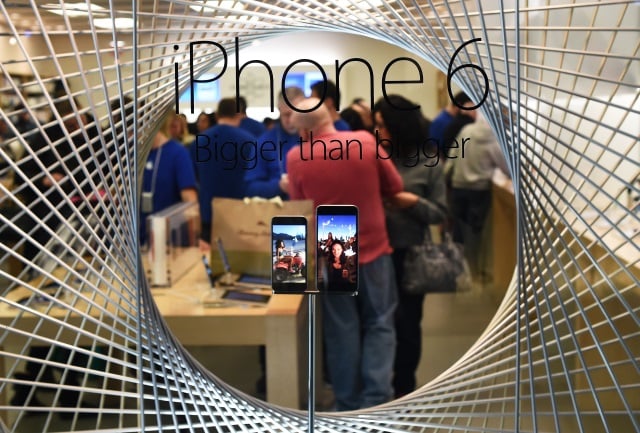 3. Large-screen iPhone models released
Until this year, Apple was one of the only smartphone makers to not offer a device with a screen size larger than 4 inches. That all changed at Apple's media event in September when it unveiled the 4.7-inch iPhone 6 and the phablet-size 5.5-inch iPhone 6 Plus. The larger-screen iPhones ignited a frenzy of excitement among consumers who purchased over 10 million units of the new models during the initial launch weekend, according to Apple.
Of course, it wouldn't be an Apple product launch without the inevitable controversy. While the iPhone 4 had a reception problem that became known in the media as "Antennagate," the iPhone 6 Plus model had an alleged susceptibility to bending that became known as "Bendgate." However, whether you believe the Apple iPhone 6 Plus has a defective design, or whether you believe some people are just not being careful enough with their mobile devices, the issue doesn't appear to be negatively impacting the company's sales. While the full extent of the new iPhone models' popularity won't be known until Apple reports its holiday quarter sales numbers, KGI Securities analyst Ming-Chi Kuo has forecast record December quarter sales of over 71 million units, according to 9to5Mac.
Despite the strong initial iPhone sales numbers, some industry watchers also wondered if Apple had waited too long to introduce a large-screen iPhone. It should be noted that rival Samsung has been selling large-screen smartphone/tablet hybrids with great success since 2011, when it introduced its line of Galaxy Note phablets. However, Apple CEO Tim Cook dismissed those concerns in an interview with talk show host Charlie Rose earlier this year. "We could have done a larger iPhone years ago," Cook told Rose, according to The Verge. "It's never been about just making a larger phone…it's been about making a better phone in every single way."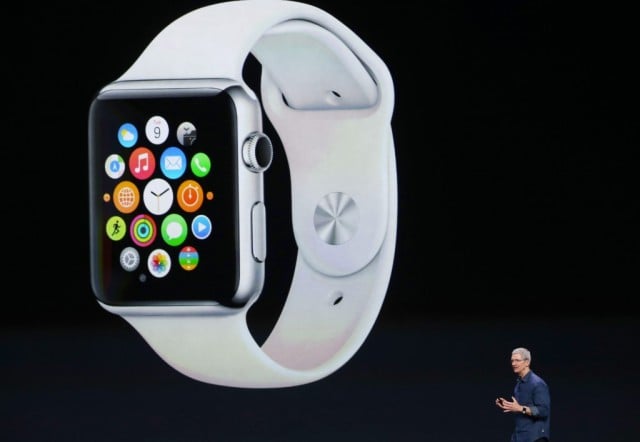 4. Apple Watch unveiled
One of the biggest stories about Apple this year involved a product that consumers won't even be able to get their hands on until 2015. At its media event in September, Apple finally confirmed the existence of its long rumored smartwatch. The Apple Watch will make its debut in "early 2015" and will start at $349, according to Apple's press release. The Apple Watch will be available in three collections — Apple Watch, Apple Watch Sport, and Apple Watch Edition — as well as two different sizes of 38 millimeters and 42 millimeters. The Apple Watch enclosure will be made of aluminum, steel, or 18-karat gold and can be paired with various watch straps.
"Apple introduced the world to several category-defining products, the Mac, iPod, iPhone and iPad," said CEO Tim Cook. "And once again Apple is poised to captivate the world with a revolutionary product that can enrich people's lives. It's the most personal product we've ever made."
Not only is the wrist-worn device the company's first completely new hardware product since the iPad, it is also Apple's first entry in the burgeoning wearable tech market. The market for wearable technologies — and smartwatches in particular — is expected to explode over the next several years. According to a recent report from market research firm CCS Insight, shipments of various smart wearables reached 9.7 million units in 2013 and will hit 135 million units by 2018. While the exact release date for the Apple Watch has yet to be revealed by Apple, several rumors have suggested that it will make its debut on Valentine's Day (February 14), 2015.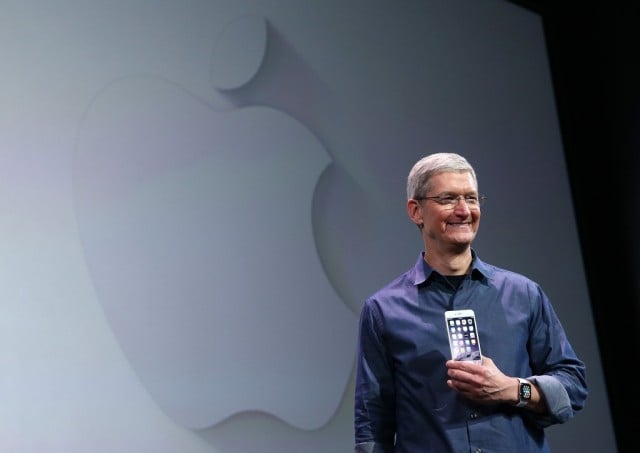 5. Apple CEO Tim Cook comes out
In an op-ed piece published in Bloomberg Businessweek in October 2014, Apple CEO Tim Cook publicly announced that he was gay. "While I have never denied my sexuality, I haven't publicly acknowledged it either, until now," wrote Cook. "So let me be clear: I'm proud to be gay, and I consider being gay among the greatest gifts God has given me."
As noted by Cook in his op-ed, he has long been open about his sexual orientation with his close friends and associates. There has also been plenty of media speculation about the Apple CEO's private life. Out Magazine even gave Cook the No. 1 spot on its annual Power List of "the gay men and women whose power and prestige is instrumental in influencing the way Americans think about, and engage with, the world" in 2013.
Still, the positive impact of Cook's announcement should not be underestimated. As he noted in his op-ed, "[I]f hearing that the CEO of Apple is gay can help someone struggling to come to terms with who he or she is, or bring comfort to anyone who feels alone, or inspire people to insist on their equality, then it's worth the trade-off with my own privacy." As noted by The New York Times, Cook's declaration also made him the first publicly gay chief executive of a Fortune 500 company.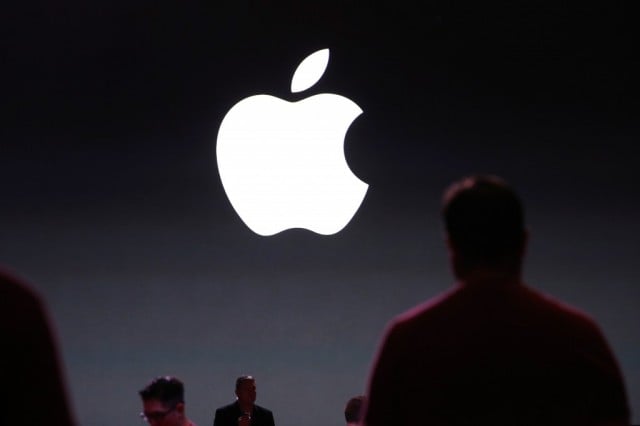 6. Apple stock reaches record levels
After moving above $700 ($100 post-split price) for the first time in September 2012, Apple shares were on a roller coaster throughout 2013 amid concerns that the company had lost its innovative edge under CEO Tim Cook and was failing to introduce new product categories. However, after undergoing a seven-for-one stock split in June 2014 and following the successful launch of the iPhone 6 and the iPhone 6 Plus, Apple's stock achieved several impressive milestones this year, including a new record high of $119.75 ($838.25 pre-split price) on November 25.
Thanks to its recent gains, Apple is not only the world's most valuable company, but its current market capitalization of around $635 billion surpasses runners-up like Microsoft and Exxon by several hundred billion dollars. While stock prices may not be foremost on the minds of fans who are primarily interested in the company's products, Apple's record stock prices this year definitely qualify as one of the biggest stories of 2014.
We hope you enjoyed looking back at the biggest Apple stories of 2014 with us! Be sure to check back at the Tech Cheat Sheet to get regular updates of the latest Apple news.
Follow Nathanael on Twitter @ArnoldEtan_WSCS
More from Tech Cheat Sheet:
Want more great content like this? Sign up here to receive the best of Cheat Sheet delivered daily. No spam; just tailored content straight to your inbox.