6 Top iOS Game Releases to Check Out This Weekend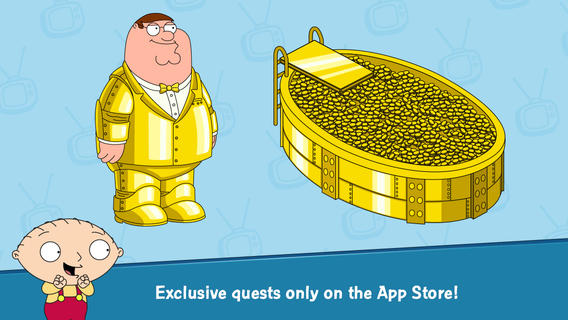 It's been a pretty slow week for console gaming, but the Apple (NASDAQ:AAPL) iOS App Store has seen plenty of exciting releases. Whether you're into sports, cartoons, action, or adventure, you'll probably find something new to play over the weekend on your iPhone or iPad. Best of all, half of them are free to download. Let's take a look at the most notable releases.
1. Family Guy: The Quest for Stuff
Price: Free
If you're a fan of the long-running animated sitcom on Fox, you might want to download this free-to-play Family Guy game. In it, the town of Quahog has been destroyed and it's your job to build it back up, one building at a time. As you piece together the town in any layout you choose, you'll also unlock characters from the show complete with authentic voice acting and clever dialog written by the writers of the show. This game is very similar to The Simpsons: Tapped Out, so if you prefer the Springfield gang, you may want to try that game, too.

2. R.B.I. Baseball 14
Price: $4.99
This is an unlikely remake of a classic NES game that came out 28 years ago. As such, it strives to provide a fun "arcade-style" gameplay experience, as opposed to a rigorously realistic one. It doesn't worry about stats so much as it focuses on making sure it's fun to hit the ball. The game's creators managed to get an official Major League Baseball license, so all 30 teams and 480 players are accounted for. Perhaps best of all, you can play an entire 9-inning game in under 20 minutes.

3. RollerCoaster Tycoon 4 Mobile
Price: $2.99
The RollerCoaster Tycoon series has been a big hit on PC, but this is the first time it has landed on iOS. This game lets you design your very own amusement park from the snack stands to the Ferris wheel, but with a special emphasis on making crazily detailed RollerCoasters. Once you're happy with your creations, you can share them with your friends online. Do your friends not play the game? If you build it, they will come.

4. Trials Frontier
Price: Free
In the Trials series, you play as a motorcyclist who has to ride from point A to point B without breaking every bone in his body. The problem is that each track is loaded with jumps, loops, and moving parts that are constantly trying to spill you off your bike and onto your head. This is the first free-to-play installment of the series, and it offers tons of tracks, bikes, and upgrades, plus top of the line graphics. It's free, so why not give it a shot?

5. Wind-up Knight 2
Price: Free
Wind-up Knight 2 falls into the "auto-runner" category of games, which means you have no control over the speed of your character. As each level starts, your adorable medieval knight begins sprinting forward. It's up to you to make him jump, block, attack, and roll to help him survive to the end of the level. The environments you traverse are devilishly designed with spikes, enemies, and falling rocks — all of which make your task more difficult. But like they say, if it's worth doing, it won't be easy.

6. The Wolf Among Us Episode 3
Price: $4.99, plus in-app purchase
If you think shows like Grimm and Once Upon a Time could use more violence and swearing, The Wolf Among Us will be right up your alley. Based on the comic book series Fables, this game takes place in a section of modern-day New York City where famous characters from fairy tales have come to live in disguise. You play as Bigby Wolf (from Little Red Riding Hood) as he investigates a gruesome murder, often using violence and intimidation to get the answers he's looking for. It's not for kids, but it's very well written and expertly acted. The game is being released in an episodic format, with two episodes yet to come.
More From Wall St. Cheat Sheet: