7 Video Games That Shine on the New iPhone and iPad
If you're the proud owner of a brand new iPhone or iPad, there's a good chance you're in the market for some show-stopping games to play. The App Store is packed full of games, but it can be hard to find ones that take advantage of the new devices' capabilities. Or, you know, look good enough to make your friends jealous. Here's a list of seven games that are not only incredibly fun to play but also look great on the latest Apple devices.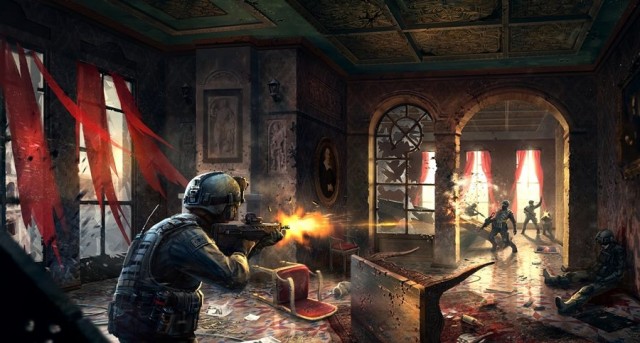 Modern Combat 5: Blackout
Gameloft has made a name for itself by releasing high-quality games that often bear striking similarities to popular franchises on consoles. Modern Combat 5: Blackout makes no bones about its resemblance to the Call of Duty series, but when a game is this well-made, it's hard to get too upset.
Modern Combat 5 is set up in a way that will feel very familiar if you've played its console inspiration. There's a single-player campaign that takes a handful of hours to complete and is made up of standard missions like infiltrating enemy territory, rescuing hostages, and broaching enemy chokepoints. The multiplayer mode, however, is incredibly fully featured. It has tons of maps, upgradeable gear, multiple character classes, and enough intense online shootouts to keep you coming back for weeks.
If you want an official Call of Duty game on iOS, you can play Call of Duty: Strike Team, a mix between a strategy game and a first-person shooter. But if you want a console-like Call of Duty game on iOS, pick Modern Combat 5: Blackout.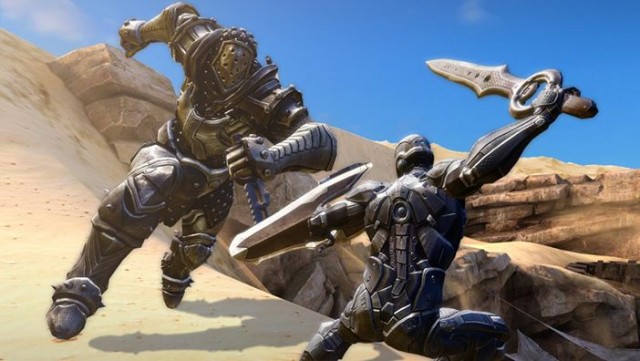 Infinity Blade 3
Infinity Blade is one of the premier game franchises on iOS. Not only are these great games, but they essentially created a whole new genre. Your goal is to explore a medieval environment and engage enormous monsters in epic one-on-one battles. Intimidating doesn't begin to describe it.
From a gameplay perspective, Infinity Blade III takes the basic ideas behind Punch-Out for NES but adds a number of really smart tweaks. In each fight, you study your opponent's movements to predict what attack is coming your way. Then you try to determine the best way to avoid the attack and make counterattacks of your own. It's a smart battle system that leads to extremely tense situations.
The game also has tons of weapons and armor that can be reinforced to maximum effectiveness, plus rings that let you do magic spells, as well as hidden bags of money stashed away in the scenery. All of these pieces combine into an intricate, expertly made game that just about anyone can enjoy. And it doesn't hurt that it looks utterly fantastic, especially on a new iPhone or iPad.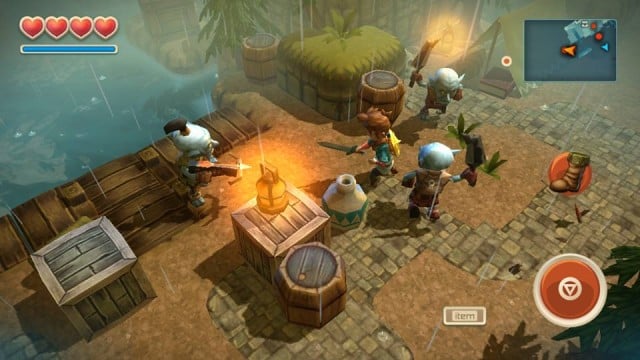 Oceanhorn
If you grew up playing Zelda games, you'll see the appeal of Oceanhorn immediately. Much like 2003's The Wind Waker, this colorful action-adventure game stars a sword-swinging kid who travels between islands to explore dungeons, solve puzzles, and root out shiny treasures.
He finds familiar weapons to use like bombs and arrows, and even collects heart containers to increase his health bar. If it sounds like borderline plagiarism of Nintendo's game, you're not far off from the truth. But Oceanhorn has a style all its own, with jaw-dropping visuals and open-world gameplay that works great on a touchscreen.
And regardless, Nintendo isn't likely to bring a Zelda game to iOS anytime soon. If you want your Link fix on iPhone or iPad in the meantime, Oceanhorn delivers.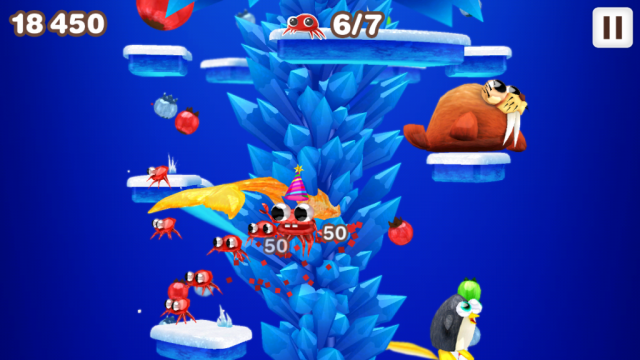 Mr. Crab
One of the few games to be updated to take advantage of Apple's Metal graphics technology is Mr. Crab, a vertical platformer that has you climbing up Everest-high stages and saving crab babies along the way. It may look like a game for kids — and in many ways it is — but it's still no walk in the park if you want to complete every level 100%.
The graphics are great, thanks in part to its Metal core, but also because developer Illusion Labs has done a fantastic job creating interesting corkscrew-shaped levels that always present you with something new to do.
It's also a one-touch game, which means you can play it while standing on the bus or subway, even on a beastly iPhone 6 Plus. Give this game a shot if you're interested in a bright, responsive game that plays great and can fit into small breaks during a busy schedule.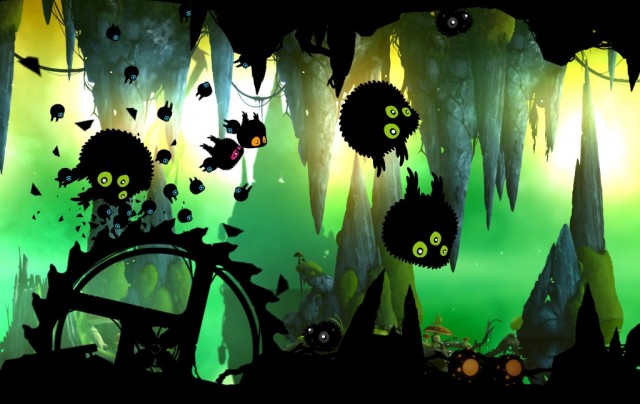 Badland
Another terrific one-touch game is Badland, a game with beautiful silhouette art that stars strange, heavy creatures with small, inadequate wings. In this game, the screen scrolls automatically forward, and it's up to you to keep tapping to flap your creature's wings to avoid the many obstacles in your way — like saw blades, for instance.
As you play, you'll pick up other creatures like you, who flap their wings when you touch the screen as well. But when you have a swarm of critters and you try to navigate them between two dangerously-close saw blades, chances are there will be blood. Thankfully, as long as one creature remains alive, you can keep playing.
Badland is a lovingly twisted game that offers up an increasingly steep challenge, but it's definitely worth playing, especially since it looks so great on the new iOS devices.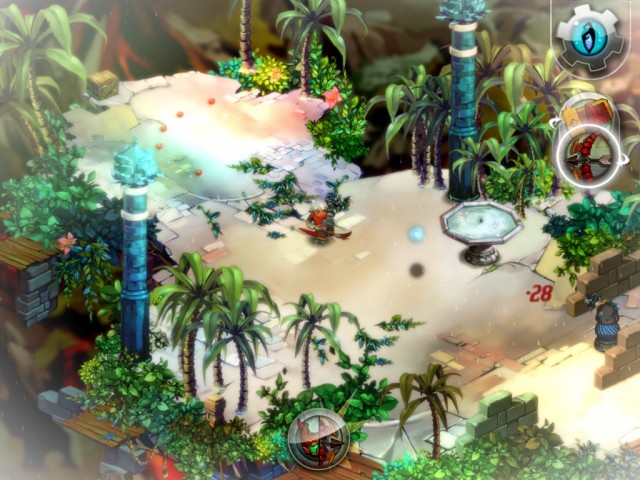 Bastion
In Bastion, you play as a kid who has to make his way through a monster-infested world after an event referred to as the Cataclysm. It's an action role-playing game, so you can expect to do lots of weapon-swapping, character customizing, and hacking your way through enemies.
As a word of warning to addiction-prone gamers, there's something incredibly engaging at play here. You'll have to keep an eye on the clock as you tap away at the screen, to make sure you go to bed on time. It's that much fun.
And if that's not enough, one of the biggest selling points of Bastion is its soundtrack. This game is set against a backdrop of one great song after another, and they just keep coming. Throw in a gravelly voiced narrator and a vivid, colorful world that shines on any Retina-level screen, and you've got a killer package.
BioShock
If you're not familiar with BioShock, the main thing you need to know is that it's widely considered as one of the best shooters ever made. The fact that it originally came out for Xbox 360 goes to show how powerful Apple's handheld devices have become.
Bioshock is known for its deep, twisting storyline and fully realized world. It takes place in an underwater city called Rapture that was meant to be a utopia — but when you arrivem it quickly becomes clear that something went wrong. It's mostly deserted, and the people and creatures that remain are almost all deranged.
But this game looks fantastic and comes with touchscreen controls that work just fine. If you happen to have an MFi controller, you can use that instead. Any way you slice it, iOS gaming doesn't get much bigger or better than Bioshock.
Follow Chris on Twitter @_chrislreed
More from Tech Cheat Sheet:
Want more great content like this? Sign up here to receive the best of Cheat Sheet delivered daily. No spam; just tailored content straight to your inbox.