8 Things You Didn't Know About How We Use Apps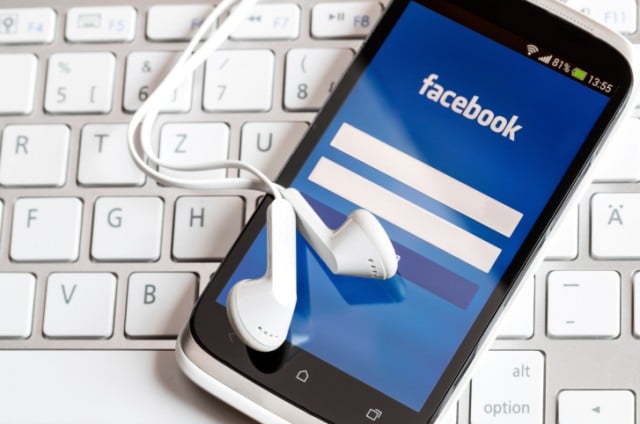 Mobile apps are a huge part of how we accomplish tasks on our smartphones and tablets everyday. But have you ever thought about how much we use apps? How many apps we download every month? Or even how our age or mobile operating system correlates with what kinds of apps we use the most? If you'd like to know, you're in luck: According to comScore's recent U.S. Mobile Apps Report, here are eight things you didn't know about how we use the apps on our smartphones and tablets.
1. Apps account for more than 50 percent of the time we spend with digital media.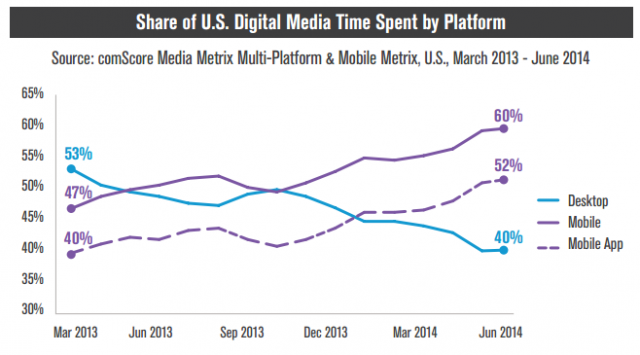 The total amount of time we spend with digital media — activity on a phone, tablet, or computer — has jumped 24 percent in the past year. That increase was driven by (you guessed it) growth in app usage. Apps now account for 52 percent of the time that we spend with digital media. And total mobile activity, which adds app usage and mobile browsing, accounts for 60 percent of of the time we spend with digital media, so desktop usage (activity on a laptop or desktop computer) accounts for the remaining 40 percent of our digital media time.
Apps also account for a full seven of every eight minutes of media consumption activity on mobile devices. And interestingly enough, app activity reaches a slightly higher percentage of smartphone use than tablet use, with apps comprising 88 percent of smartphone activity vs. 82 percent on tablets.
2. More than a third of smartphone users download at least one app each month — but 65.5 percent download zero apps each month.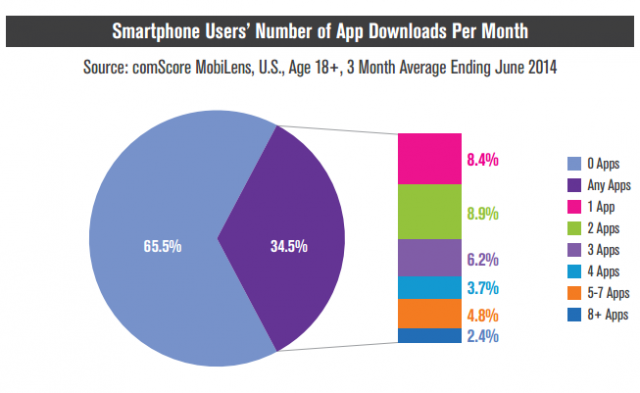 While 34.5 percent of smartphone users download at least one app every month, a full 65.5 percent don't download a single app. (Let's think about that for a second. Only about a third of smartphone users download any apps in an average month.) There are a couple of possible factors at play. Almost all of the most-used apps — which we'll get to in a few pages — is an app that's been around for a while. It stands to reason that most people use well-established apps to complete mobile tasks, instead of constantly downloading new ones. Additionally, we've talked before about how app stores are terrible for discovery, so even a user wants to find a new app to download, the Android and iOS app stores don't make it easy.
The average user in the 34.5 percent downloads three apps per month. But the top 7 percent of smartphone users account for nearly half of all downloads in a given month. 57 percent of smartphone users access apps every single day of a given month, while only 26 percent of tablet owners accessed apps every day of a month. 79 percent of smartphone users accessed apps at least 26 days out of the month, with 52 percent of tablet owners doing the same.
3. Forty-two percent of all time spent on smartphones occurs in each individual's single most-used app.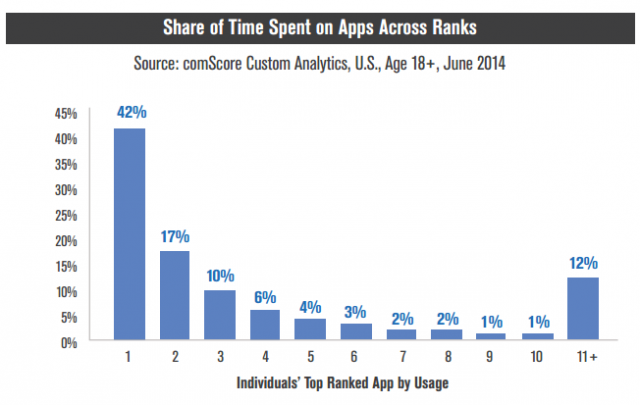 With 42 percent of the time a user spends on his or her smartphone going to the single app that he or she uses the most, almost three out of four minutes of app usage time is spent in the user's top four apps. This further reinforces the idea that users have already established which apps are useful for the tasks they want to complete on their smartphones, and it seems that they stick to those apps for the majority of the time they spend with the apps on their devices.
4. iOS users are generally have higher incomes than Android users.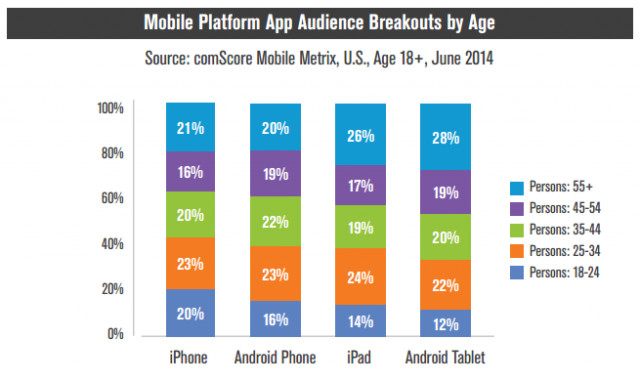 ComScore isn't the first to report it, but iOS users and Android users, even within the U.S., are markedly different groups. The median iPhone user earns $85,000 per year, 40 percent more than the $61,000 earned annually by the median Android user. It's also worth noting that iPhone users engage with apps for nine more hours per month than Android users, and while 43 percent of iPhone users are between the ages of 18 and 34, only 39 percent of Android users are within that age range. 57 percent of iPad users are under age 45, versus 53 percent of Android tablet users.
(For context: Android is the top mobile operating system in the U.S., with 83.8 million subscribers — 16.4 million more than Apple's iOS subscribers. Apple, in turn, is the top smartphone original equipment manufacturer, with 67.4 million owners and, as comScore feels the need to point out, 100 percent of the iOS device market.)
5. Twenty-five percent of mobile app time is spent with social networking apps.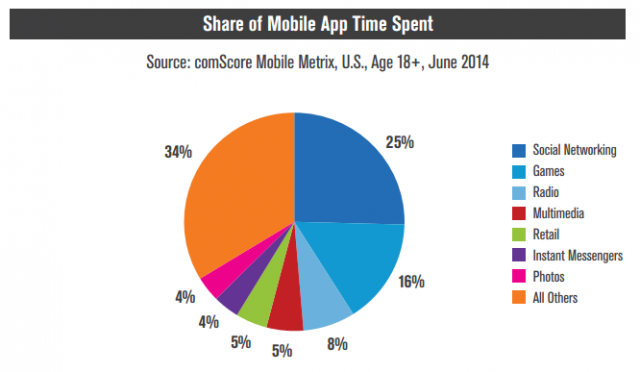 The usage of a few categories of mobile apps accounts for a majority of the time that users spend with mobile apps. Social networking, Games, and Radio are responsible for almost half of the time that we spend in mobile apps — making it clear that as useful as a smartphone can be when you're looking for directions or searching for information, we spend a lot of time using them for entertainment and communication.
6. iOS users spend a lot of time consuming media, while Android users spend more time in search and email.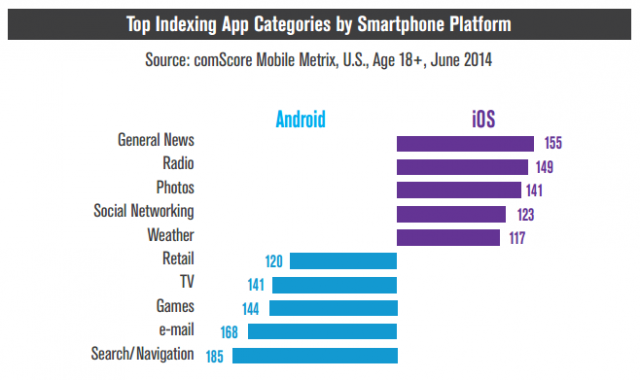 The app categories that users spend the most time in is actually correlated with the mobile operating system that they're using. iPhone users spend a greater share of their app usage time consuming media, with General News, Radio, Photos, Social Networking, and Weather all top categories on iOS. Conversely, Android users take advantage of the native integration of Google services like Google Search and Gmail to spend a greater share of their app usage time in the Search and Email categories.
Along the same category lines, apps in some categories are used more on mobile than on desktop, while other categories achieve a higher reach on desktop than on mobile. This isn't breaking news, but it's still interesting to note that Radio, Maps, and Instant Messengers are used more on mobile than on desktop, whereas Search and News reach a wider audience on desktop than they do on mobile.
7. The top apps are Facebook, YouTube, Google Play, Google Search, Pandora Radio, Google Maps, Gmail, Instagram, Apple Maps, and Yahoo Stocks.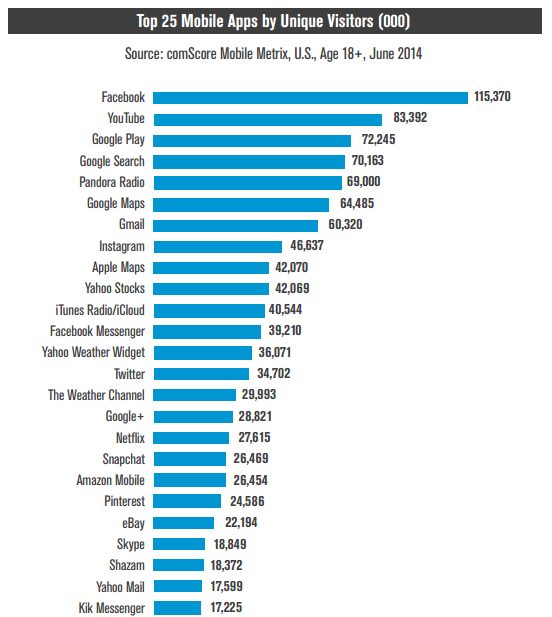 The most popular apps by monthly unique visitors doesn't hold that many surprises: the list is dominated by apps by major digital media brands, such as Facebook, Google, Apple, Yahoo, Amazon, and eBay. As comScore notes, those six brands account not only for nine of the top ten most-used apps, but for 16 of the top 25 and 24 of the top 50.
Facebook is far ahead of the competition in terms of both audience size and the time spent by users in each of the different demographic segments. And across all age segments, users spend the most time in what comScore terms "leisure-oriented" apps in the Social Networking, Entertainment, and Messaging categories. The younger the age of the user, the higher the concentration of activity in these types of apps, as older users also spend time in Mail and Maps apps.
It's also worth noting that there aren't any games in the top 25 apps — perhaps because there are few games that can rival the lasting power of apps like Facebook, Google Search, or Instagram.
8. Facebook is by far the most popular app, regardless of users' age.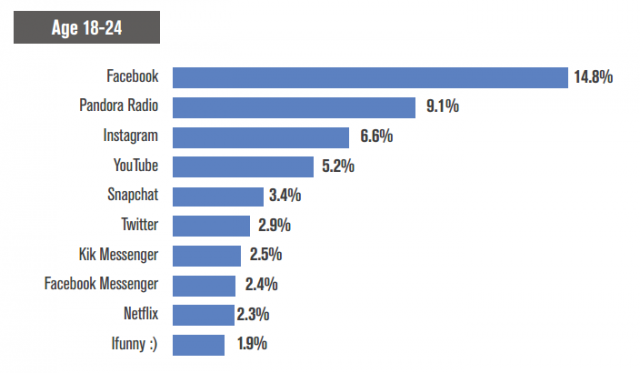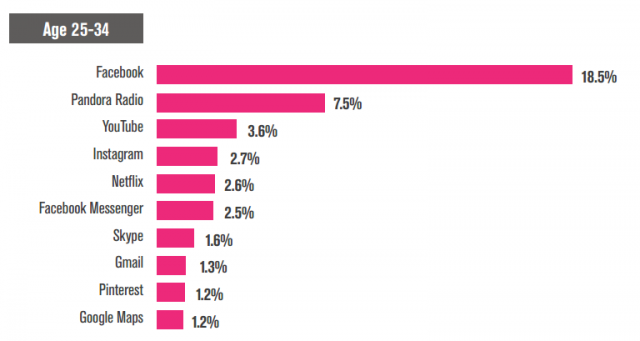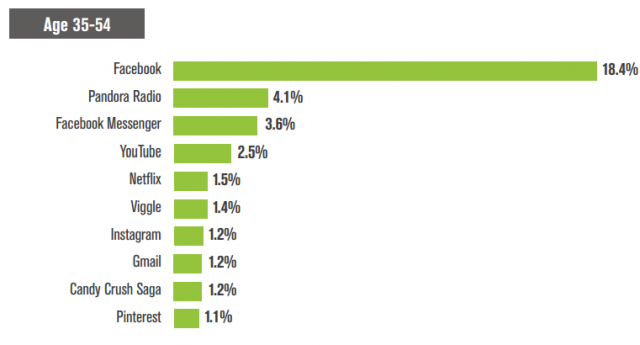 Whether you're 18 or 55, chances are good that you spend a lot of time on Facebook on your smartphone. That's pretty impressive. It's also interesting to note how Pandora Radio hovers near the top of the usage charts — in second place behind Facebook for every age group except smartphone users 55 and over.
Want more great content like this? Sign up here to receive the best of Cheat Sheet delivered daily. No spam; just tailored content straight to your inbox.