8 Years Later, User Retention Still a Struggle for Twitter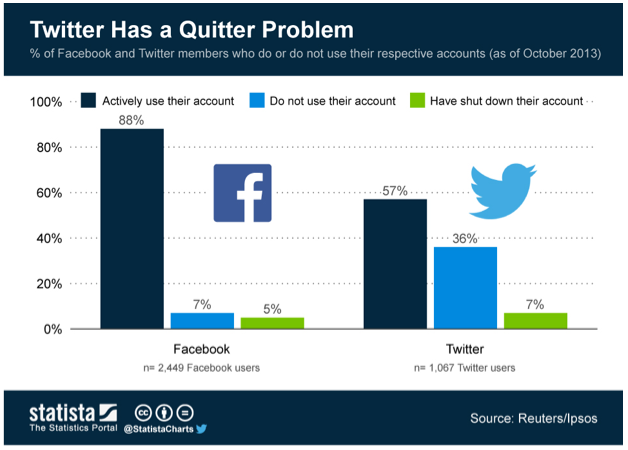 Twitter (NYSE:TWTR) is ringing in its eighth birthday and as part of the anniversary, the company has reintroduced a feature that allows users to look back at their very first tweet.
Here's the issue: Most users stick with Twitter long enough to post a first tweet, but a new report from Twopcharts, a website that monitors Twitter account activity, notes that just 11 percent of users who were new to the site in 2012 are still tweeting today. The website, while very popular, doesn't seem to be an indispensable tool for its users in quite the same way that rival sites such as Facebook (NASDAQ:FB) continue to be.
According to The Wall Street Journal, which first reported the story on Friday, about 40 percent of the 20 million accounts that are created on Twitter each month post at least one tweet during their first month on the site. Amsterdam-based Twopcharts estimates that just a quarter of those new accounts will still be tweeting next year, on Twitter's ninth birthday.
Twitter's user retention problems aren't new, the Journal notes, reporting the issue has plagued the social media site, which went public with a much-hyped IPO earlier last year, for years now.
Part of the reasoning behind Twitter's retention problems could be the fact that the site can be more confusing for new users compared with other social media platforms. The fact that Twitter users are limited to just 140 characters means that longtime Twitter users often communicate in a kind of shorthand that can throw new users for a loop.
Additionally, features like hashtags and at-replies aren't always intuitive for new users, making it difficult for them to connect with other users in a discussion. For this reason, Twitter has apparently been considering ditching its trademark hashtags and at-replies altogether.
Twopcharts reports that there are currently more than 1.5 billion Twitter accounts, with 955 million of those still in existence today, but a mere 13 percent of those 955 million have posted at least one tweet in the last 30 days.
Worse news is that Twopcharts findings also indicate that accounts made in recent years are actually less likely to continue to be active than those made by early adopters in previous years (anywhere between 2006-2011). The Wall Street Journal says that 25 percent of the accounts created in 2008 are still active and tweeting today, while just 10.7 percent of accounts created in 2012 are likely still tweeting just more than a year later.
More From Wall St. Cheat Sheet: