All I Want for Xmas is an Ultra HD iTV
Will Apple's (NASDAQ:AAPL) long-rumored iTV be available for purchase by the 2013 Christmas retail season? According to Kevin Parrish at Tom's Hardware, Apple is planning to launch an Ultra high-definition television with "motion-sensing control functions and Siri-based voice commands" by the fourth quarter of this year.
Anonymous industry sources via the DigiTimes state that "Apple and Foxconn Electronics have been in discussions for quite some time in terms of the TV's mass production schedule." If these unconfirmed reports are true, it would seem to indicate that Apple has already designed the iTV and is now merely nailing down the various manufacturing details.
According to the DigiTimes sources, one of the final manufacturing details that have yet to be resolved is where Apple will source its Ultra High-Definition television display panels from. Ultra HD is a specialized type of TV display that has a 3840 x 2160 resolution and requires a particular manufacturing process.
Most of the manufacturers of this type of display are based in Taiwan, where they are expected to soon be busy with seasonal orders from Chinese television vendors. Apple's own producers of HD panels will also be busy since they already produce display panels for devices like the iPad Mini, iPad, and iPhone.
However, the DigiTimes sources believe that Apple will most likely utilize LG Display as its main supplier for the Ultra HD TV panels for the new Apple iTV. Although a late 2013 iTV release is a possibility, manufacturing constraints may push the launch date into early 2014, reports the DigiTimes.
Apple closed down 2.08 percent at $442.66 on Thursday, at the end of a shortened trading week.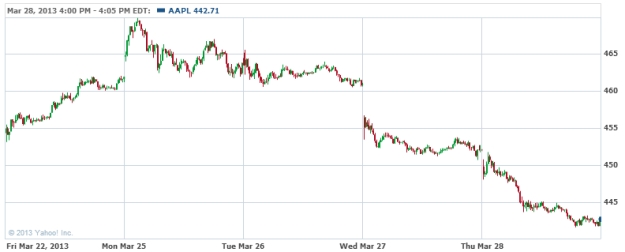 Don't Miss: Is This the iPhone 6?