Amazon Assembles Gaming Talent for Fire TV
With the Amazon (NASDAQ:AMZN) Fire TV set-top box, Amazon is making a bid to carve out a place for themselves on your entertainment stand. You can use the $99 device to listen to music, watch videos, access a number of Internet services, and play games. In an effort to make their game offerings appealing to consumers, they've formed Amazon Game Studios, a first-party development house that has already attracted several industry veterans.
The big hires include Kim Swift, who worked on Portal; Ian Vogel, of System Shock 2; and Clint Hocking, who lead development on Splinter Cell: Chaos Theory. According to Polygon, Amazon made these developers an interesting pitch to get them to work for the new studio. Mike Frazzini, the vice president of Amazon Games, said that, "We have a somewhat nuanced approach. There are studios that have hundreds of people working multiple years on a game — that's not what where we're going. That's one end of the spectrum. On the other end of the spectrum, you have casual games that are really fun to play, like match-3 and puzzles. What we're thinking about is building games that fall more in the middle."
Amazon's goal is to create teams made up of 5 – 30 people. Each team would work on a game for a year to a year and a half. Their idea is to make games that focus on creativity, craftsmanship, and uniqueness.
Additionally, the developers will have a say in the technology that runs the games. In an interview with Polygon, Amazon developer Ian Vogel said, "A lot of us have worked on these big-budget titles, and we've had a lot of fun, but I think it's really exciting to be part of something where you can have more control and you're not in the loop of three to four years of development." He continues, "Plus Amazon offers so many unique things like the cloud structures, the devices they made, the services — it's really alluring to creative minds."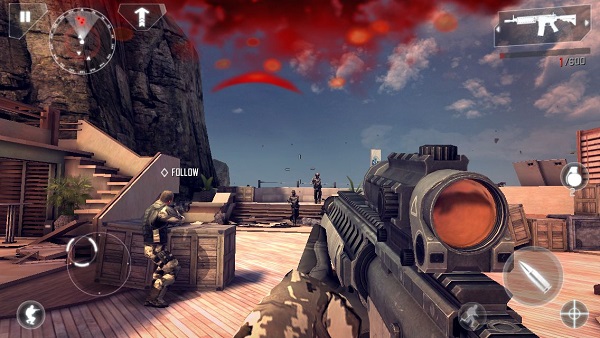 In fact, the developers have already seen their input realized in the hardware. Amazon says that the Fire TV is three times as powerful as competing products from Apple (NASDAQ:AAPL), Roku, and Google (NASDAQ:GOOG) (NASDAQ:GOOGL), thanks to a dedicated graphics processor and 2GB of RAM. Those specs, requested by the developers, allow the set-top box to handle the graphical demands of video games.
The Fire TV will also reportedly be able to put Amazon's cloud services to use, handling some of the computing power for games that would otherwise be too complex for the hardware.
The Fire TV doesn't play games right out of the box, however. For that, you need a controller that's sold separately for $40. As an added bonus for buying the controller, Amazon is throwing in a game called Sev Zero that's described as a combination between a shooter and a tower defense game (and also a Halo knock-off).
As for right now, the game offerings for Amazon Fire TV are slim, with Minecraft and The Walking Dead as the main highlights. Those games are available on many other platforms as well, so it may take a while before any must-have exclusives land on the device.
But that's why Amazon hired the pros. Vogel says they have lots of games in the pipeline. "We'll have kids games, we'll have core games. There's going to be a lot of experimentation and the focus is going to remain on fun," he said. "We're just getting started with this."
More From Wall St. Cheat Sheet: