Amazon Challenges Apple's Photo Stream App
Can Amazon (NASDAQ:AMZN) beat Apple (NASDAQ:AAPL) at the photo cloud storage game with its own iOS app? Amazon is challenging the Cupertino-based company on its own turf by releasing its Cloud Drive Photos app on Apple's iOS platform. Amazon's app is fairly close to Apple's own Photo Stream app, although there are a few differences.
Similar to Apple's own Photo Stream service, Amazon's Cloud Drive Photos app lets you upload your photos to a cloud storage service which can then be accessed from any iOS device or web browser. After requesting access to the user's camera roll, the app can be set to automatically upload photos as they are taken. However, you can also select to manually upload individual photos. Like many other cloud storage apps, Amazon's Cloud Drive Photos supports social media sharing functions such as Twitter and Facebook (NASDAQ:FB).
Although it doesn't offer any special editing tools, Cloud Drive Photos does offer more virtual storage than Apple's Photo Stream. Amazon offers users the ability to store up to 2,000 photos in the Cloud Drive with no time limitation. In contrast, Apple only offers to store up to 1,000 photos at a time for up to 30 days.
You can also increase your storage limit with Amazon by paying an annual fee. You can rent 20GB for $10, 50GB for $25, and 100GB for $50. In this sense, Amazon's Cloud Drive Photos app might be better suited for iOS users who take a lot of photos.
According to its iTunes' webpage, the Cloud Drive Photos app works on most iOS devices that run iOS 6, although it is optimized for use on the iPhone 5. However, in order to download the free app, you must have an Amazon account.
Apple shares closed down 0.83 percent at $452.97 on Friday after shedding $3.80 from its price at the opening bell. Here's how Apple and Amazon has traded over the past week.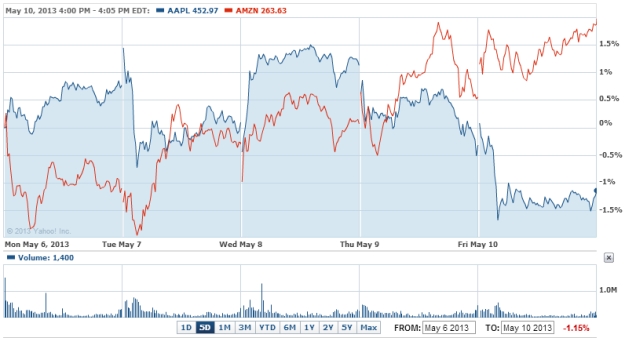 Don't Miss: How Many Companies Are Cooking the Books?