Amazon Dreams Big About the Future of Cloud Computing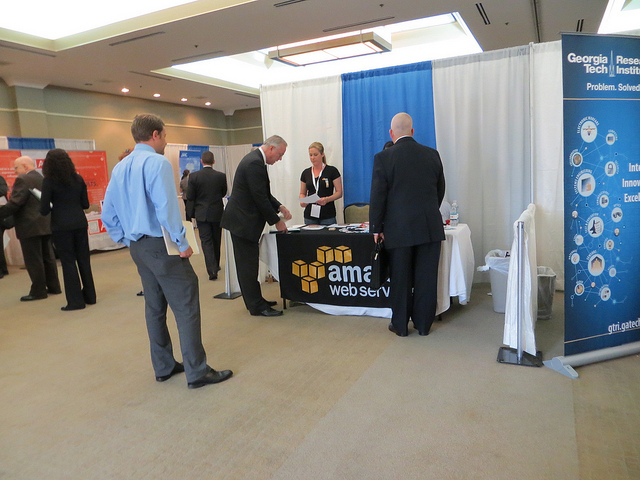 It may come as a surprise to consumers that one of Amazon.com Inc.'s (NASDAQ:AMZN) least talked-about divisions is actually its most lucrative unit. Known for selling shoppers anything from books to diapers to clothing to electronics, the retail giant is hailed for its command of the digital marketplace, but many neglect to recognize the success of Amazon Web Services, or AWS.
Despite the quiet fanfare, Amazon's business of selling infrastructure computer services to other companies over the Internet is actually what generates a great bulk of its revenue, and the service is growing at nearly 50 percent a year.
Following AWS's annual conference in Las Vegas this past week, The Seattle Times sat down with the executive running Amazon's infrastructure business, Andy Jassy, and the leader offered some insight as to where he sees his ship going in the future.
According to Jassy, AWS will one day be Amazon's biggest sales engine, and that belief is supported by the idea that companies will soon begin renting the hardware and software that run their businesses, instead of buying it.
Amazon is poised to benefit from this shift because AWS itself pioneered cloud computing, or the business of providing infrastructure computing as a service. As a result, many companies have proven their trust in the Internet retail giant's business by securing contracts with Amazon Web Services.
Jassy explained to The Seattle Times: "I think we're past the stage of people asking whether or not workloads are moving to the cloud. The only question is how fast will it happen and which ones will go first. You see that very much in the conversations and the dialogue here."
The publication reports that AWS generates around $3 billion per year on an annualized basis, and that figure is expected to increase as the Seattle-based company secures more partnerships.
Amazon recently beat out International Business Machines Corp. (NYSE:IBM) for a $600 million contract with the U.S. Central Intelligence Agency, and the tech giant also already powers a handful of major companies like General Electric (NYSE:GE), Pfizer (NYSE:PFE), and Netflix (NASDAQ:NFLX). 
As for the companies that have yet to switch over to cloud computing, Jassy expects them to convert sooner rather than later despite business relationships with customers that extend back years. The executive told The Seattle Times: "At the end of the day, it doesn't really matter how long you've had relationships with customers. If the value proposition is compelling, customers are going to move there," and he'll believe they'll do so because the cloud really is "applicable to companies of every size and in every business."
And with more interest in the cloud comes more competitors trying to crack the same business, right? Jassy recognizes that challenge but cites Amazon's 7-year head start as one reason he is not yet worried.
The executive asserts that IBM isn't a particularly big threat to Amazon because the market is so expansive. "If you look at the market segments that AWS is participating in — infrastructure software and tools, hardware and data-center services — globally, those segments represent trillions of dollars," he said to The Seattle Times. "And logic says there's not going to be only one successful company in that space. I don't think there will be 30. But I do think there will be a handful of them."
Don't Miss: What Is With Google's New Retail Snow Globe?