Amazon Echo: What It Does and What It Means for Amazon's Future
Question: What looks like a futuristic coffee thermos and answers to "Alexa?" Answer: Echo, the latest tech gadget unveiled by Amazon. After entering the smartphone market several months ago with a device that featured an unusual gesture-based user interface, Amazon has once again surprised the tech world with Echo, the company's unique take on the digital personal assistant. According to Amazon, the 9.25-inch high cylinder is a voice-activated digital assistant that is intended for use in the home.
"Amazon Echo is designed around your voice. It's always on — just ask for information, music, news, weather, and more," stated Amazon. "Echo begins working as soon as it hears you say the wake word, 'Alexa.' It's also an expertly tuned speaker that can fill any room with immersive sound." Not surprisingly, Echo can stream music from Amazon Music and Prime Music, as well as iHeartRadio and TuneIn. The Bluetooth-enabled device can also stream music services like Spotify, Pandora, or iTunes from a smartphone or tablet.
The device is outfitted with an array of seven microphones that allow it to "hear you ask a question even while it's playing music," according to Amazon. However, in case you find it creepy that Echo is always "listening" to your conversations, the device also features a button that will mute its microphones. Besides answering your random questions and playing your music requests, Echo can also function as an alarm clock and note taker by storing your appointments and to-do lists. Amazon Prime members can get Echo for just $99 for a limited time, while everyone else must pay the full price of $199. That is, everyone who gets an invitation. According to Amazon's website, Echo is currently only available by invitation, which interested buyers can request from the company via email.
While the debut of another voice-activated digital assistant from a tech company that recently entered the smartphone market will inevitably draw comparisons to Apple's Siri, Microsoft's Cortana, and Google's Google Now, it should be noted that Amazon's Echo differs from those personal assistants in several significant ways. One of the most obvious differences is that the Amazon Echo is a standalone product that is intended to remain in your home, in contrast to smartphone-based assistants like Siri.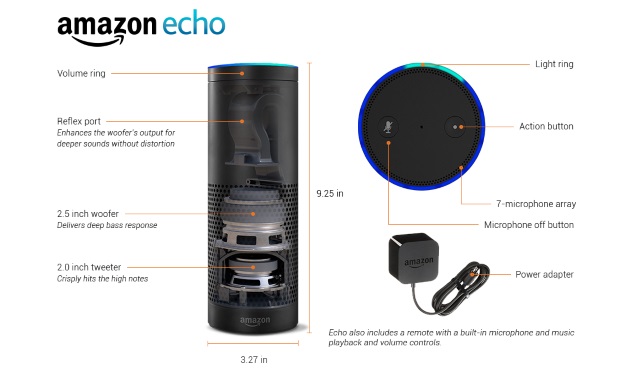 Although Echo comes with an associated Echo smartphone app, it's not clear if all of the device's functions can be accessed by users remotely. According to Amazon, the app lets users manage "alarms, music, shopping lists, and more." Noticeably absent from this list is the ability to ask Alexa questions from a Fire phone or other smartphone, in the same way that users query Siri or Google Now. In other words, unlike the personal assistants developed by Apple, Microsoft, and Google, Amazon's Alexa is not intended to be used as smartphone-based assistant.
In fact, since Echo is intended to be based in your home, it could be viewed as Amazon's first entry into the burgeoning connected home market. The connected home market is expected to reach $10 billion in 2014 and may grow as large as $44 billion by 2017, according to mobile industry group GSM Association. Apple already showed its interest in the connected home market earlier this year when it unveiled HomeKit, a suite of tools that allows developers to easily create iOS apps for home automation products. Google also stepped up its investment in the connected home market by acquiring smart thermostat and smoke detector maker Nest Labs in January 2014. . In this sense, the Amazon Echo has more to do with rivals' moves into the connected home market, rather than any smartphone market competition.
While Echo currently doesn't include the ability to control any connected home products, Amazon promised that "new services and features" will be made available through future updates from the cloud. In other words, don't be surprised if Echo eventually morphs into an Amazon control hub for a connected home. Of course, even if Echo is intended to be Amazon's first foray into the connected home market, it still remains to be seen if it will be successful. The Fire phone, Amazon's highly anticipated entry into the smartphone market, was recently confirmed to be a flop when the company revealed that it took a $170 million write-down on Fire phone-related costs during its last quarterly earnings call, as reported by CNET. Whatever the long-term plan for the Echo is, it appears that Amazon is betting that people will pay at least $100 for the privilege of having an intelligent home-based personal assistant that can answer questions, offer reminders, or just play some music.
Follow Nathanael on Twitter @ArnoldEtan_WSCS
More from Tech Cheat Sheet: