Amazon Unveils Fire Phone Meant for Music, Video, Shopping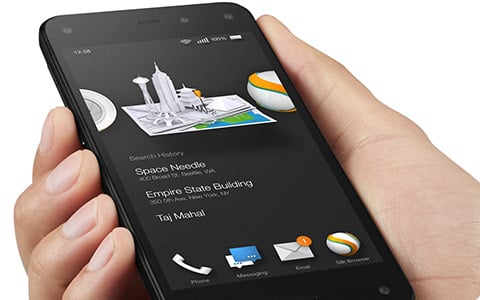 After years of rumors, Amazon (NASDAQ:AMZN) has finally launched its Fire Phone, the company's first smartphone and its response to Apple's (NASDAQ:AAPL) iPhone. The New York Times reports that Amazon CEO Jeff Bezos unveiled the phone in front of a crowd of 300 at an event in Seattle. Over 60,000 people applied to attend the event ahead of expectations that Bezos would unveil the company's first smartphone. The phone is listed on Amazon's website priced from $199 to $649, depending on whether you choose one of the AT&T plans offered or purchase without a contract. The phone is listed for pre-order, and will be released July 25.
The Fire Phone runs on Fire OS 3.5, Amazon's customized version of Android, which integrates Amazon's digital content and cloud services. The device features a 4.7-inch HD LCD display, a quad-core 2.2GHz processor, Adreno 330 graphics, and 2GB of RAM. It's built with a rubberized frame, Gorilla Glass on both sides, and also has dual stereo speakers. It also has a 2.1MP front-facing camera and 13MP rear-facing camera with an f/2.0 lens, 1080p video capability, and free, unlimited cloud storage.
But the most interesting features of the Fire Phone are two new technologies unveiled with it: Dynamic Perspective and Firefly. Dynamic Perspective is the sensor system that powers the much-rumored 3D display, and Firefly is a feature that can scan barcodes, songs, movies, and text to put information — and Amazon products — right at users' fingertips.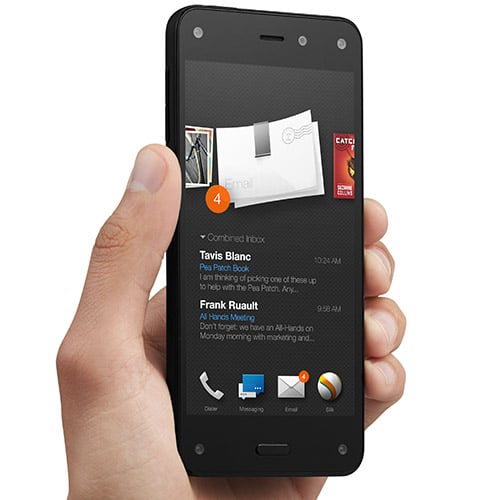 Dynamic Perspective
The Fire Phone's much-rumored 3D interface features a tracking system that Bezos called Dynamic Perspective during his presentation. A launch announcement later posted on Amazon's homepage explains the technology, which will enable the picture to change as the user moves and web pages to scroll as the user tilts the device.
"Dynamic Perspective uses a custom-designed sensor system that responds to the way you hold, view, and move your phone. It opens up a new class of immersive apps and games not possible on other smartphones, as well as one-handed navigation and gestures like auto-scroll — read long web pages and books without ever touching the screen." Amazon lists the array of sensors that go into the Dynamic Perspective system as "invisible infrared illumination, gyroscope, accelerometer, magnetometer, barometer, proximity sensor, ambient light sensor."
The product page says that users will be able to use one-handed shortcuts like "tilt, auto-scroll, swivel and peek" to access menus and shortcuts. Tilting to the left will reveal menus, tilting to the right will reveal shortcuts, and swivel will access notifications and other actions while peek reveals details and additional actions. The idea is to make the phone easy to navigate using only one hand. The gestures will also come into play in apps and also in games, where they'll allow users to take on their character's viewpoint, and move their head to look around corners and obstacles. A video on Amazon's website shows that the phone's maps feature shows different angles and integrates Yelp reviews.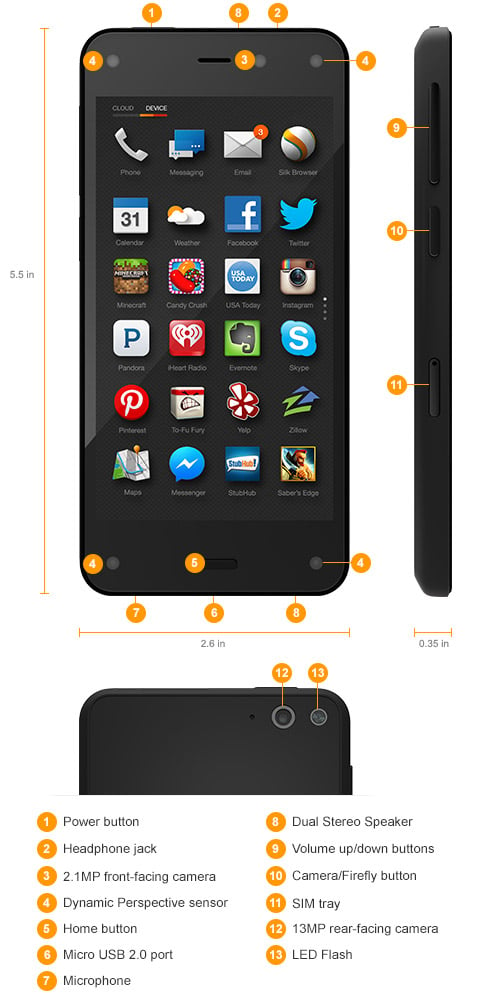 Firefly
The announcement on Amazon's homepage explains another new technology launched with the Fire Phone: a feature called Firefly. Firefly is able to recognize and scan phone numbers, barcodes, movies, TV shows, artwork, emails, URLs, songs, and books. By pressing a dedicated Firefly button on the left side of the phone, users will be able to find information "and take action in seconds," as Amazon says. Amazon's product listing says that Firefly will identify printed text to create contacts, send emails, and visit websites. Like Shazam, Firefly will also be able to listen to music that's playing and display information, or download albums. Amazon also says that iHeartRadio and StubHub will have Firefly-enabled apps so that users can create radio stations based on an artist or buy tickets to a nearby concert.
Firefly will also be able to identify movies and TV shows, and use IMDb's X-Ray to display information and save titles. In-line with the Fire Phone's emphasis on entertainment, the device supports the Second Screen functionality that enables users to send content to a Miracast-enabled device like the Fire TV. The device will also ship with earbuds fitted with a flat, tangle-free cord. Users will gain access to Prime Music and video, the Kindle library, Newsstand, and Mayday support. A video on Amazon's website shows that the Firefly feature can identify where to purchase an item that a user has scanned. Amazon says that Firefly can recognize 70 million products, and users can add items to a Wish List or order from Amazon from the Fire Phone, likely through the new Amazon Shopping app.
The Fire Phone will also feature Mayday, the live video tech support that Amazon introduced with the Kindle Fire tablet. The phone will ship pre-loaded with a variety of apps and features. The device's product listing shows that its "built-in apps" include basic functions like messaging and email, plus Amazon Instant Video and Amazon Music, while "favorites in the Amazon Appstore" include apps for Facebook (NASDAQ:FB), Twitter (NYSE:TWTR), Microsoft's (NASDAQ:MSFT) Skype, Pinterest, Instagram, Netflix (NASDAQ:NFLX), Evernote, Whatsapp, USA Today, King's (NASDAQ:KING) Candy Crush, and others. It's unclear which of those are "Firefly-enabled" or integrate the phone's other features.
The purchase of the Fire Phone will also come with a one-year Prime membership. The Fire Phone represents Amazon's leap into the competitive smartphone business, over seven years after Apple entered the market with its first iPhone. The business of smartphone sales has begun to mature in the U.S. and Europe, but the mobile phone's use for shopping has just begun. The biggest advantage that Amazon stands to win by getting current Android and iOS users to switch to the Fire Phone is to get them into its ecosystem, where they'll be able to use Amazon's digital content apps and Firefly to make purchases on Amazon.
Commentary by the Consumer Intelligence Research Partners posits that the launch of the Fire Phone "capitalizes on Amazon's strengths, and further enhances its core businesses." CIRP found that electronics overtook books as Amazon's leading department, with consumers buying computers, tablets, and smartphones on the site. It also found that over half of Amazon's customers own either a Kindle Fire tablet or a Kindle e-reader. CIRP estimated that Amazon customers owned 31.4 million Kindle devices as of March of this year.
Those Kindle owners are Amazon's best customers, and spend approximately 30 percent more per year at Amazon than Amazon customers who don't own a Kindle. Amazon uses its Kindle devices to sell more digital content. And while CIRP states that Amazon "could probably" successfully sell an Amazon-branded television or computer, which would lead to more sales of digital content, it's the introduction of a smartphone that holds the most potential to drive Amazon's sales. Since people carry their smartphones around with them everywhere, there are simply more opportunities for them to use the Firefly feature to find and purchase an item — a digital movie, a physical book, dog food, groceries — on Amazon. Being constantly connected to the Amazon ecosystem will make users significantly more likely to make more of those purchases, especially given that a Prime membership will come standard with the Fire Phone.
While Amazon's newest products — from its Fire TV to its Kindle Fire tablets to the new Fire Phone — are all the company's response to Apple products, it's not realistic for Amazon to expect to compete with Apple as a supplier of devices. Instead, Amazon will look to make its best customers even more loyal by using its Fire Phone to cut out gatekeepers like Apple, Google (NASDAQ:GOOG) (NASDAQ:GOOGL), and Samsung (SSNLF.PK), and offer apps, media, and products directly to consumers.
More From Wall St. Cheat Sheet: