Amazon to Announce Smartphone With 3-D Display in June

Amazon (NASDAQ:AMZN) appears to be on a new hardware kick this year. The e-commerce giant is planning on launching a smartphone later this year, according to "people briefed on the company's plans" cited by The Wall Street Journal. The news of an Amazon smartphone comes on the heels of the company's recent Fire TV launch, its long-awaited entry into the video-streaming hardware market.
According to The Wall Street Journal's sources, Amazon has been giving demonstrations of its unreleased smartphone to various app developers in Seattle and San Francisco in order to build interest in the device. The sources said that Amazon is planning on unveiling the device in June, while shipments will begin in September, shortly before the start of the holiday shopping season.
Amazon has included several unique features in its device in order to make it stand out in what has become an increasingly competitive and saturated smartphone market. Amazon's smartphone will feature a 3-D display technology that will use retina-tracking sensors to create images that look similar to holograms, reports The Wall Street Journal. The same retina-tracking sensors will also be used to enable a gesture control system that will allow users to manipulate text and images through movement. For example, the phone will be able to detect how close a user is to the screen and adjust its display accordingly.
Although Samsung's (SSNLF.PK) Air Gestures feature on the Galaxy S4 allows users to move onscreen items without touching the display, Samsung's system requires users to mimic the same type of movements that they would use if they were actually touching the touchscreen. On the other hand, Amazon's retina-tracking-based system appears to be a completely different type of control system.  
According to people cited by The Wall Street Journal who have used Amazon's smartphone, the 3-D screen technology is designed to enhance mobile video games by creating the illusion of depth. Amazon appears to have a growing interest in the video game market after including the capability to stream video games in its Fire TV product.
One of Amazon's suppliers will begin manufacturing the smartphone later this month with an initial production run of 600,000 units, according to The Wall Street Journal's sources. Japan Display – one of Apple's (NASDAQ:AAPL) iPhone display makers – will be one of two suppliers making displays for Amazon's smartphone.
According to data from market research firm IDC, Apple and Samsung combined account for nearly half of the worldwide smartphone market. It remains to be seen if the unusual features of Amazon's smartphone will be enough incentive to lure smartphone buyers away from the current dominant players in this competitive market.
Here's how Amazon closed out the trading week on Friday.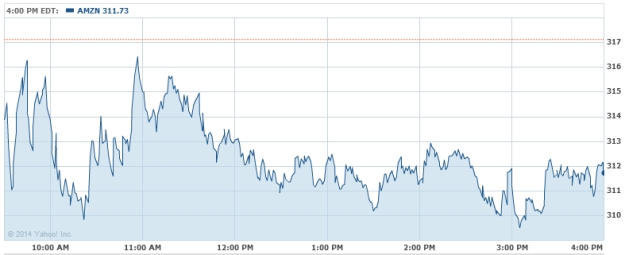 More From Wall St. Cheat Sheet:
Follow Nathanael on Twitter (@ArnoldEtan_WSCS)