Amazon's Investors Keep Faith in Bezos
Is Amazon's (NASDAQ:AMZN) stock price a dazzling mirage sustained by investors' faith in CEO Jeff Bezos? Amazon has seen its stock go up 120 percent in two years despite the company's inability to generate consistent profits. In its most recent quarter, Amazon lost $41 million, or $0.09 per share.
Amazon's stock price appears to be partly buoyed by investors' unshakeable faith in Bezos's vision. The company's founder has a knack for attracting positive media attention for himself and his company, noted the Wall Street Journal's Holman W. Jenkins, Jr. For example, Bezos got favorable coverage earlier this year for purchasing the Washington Post with $250 million of his own money. Bezos was also named the biggest industry disrupter by Vanity Fair magazine this year, and The New York Times once called him "the natural heir of Steve Jobs as the entrepreneur with the most effect on the way people live now."
More recently, Bezos stunned journalist Charlie Rose when he revealed a secretly developed "delivery-by-drone" service called Amazon "Prime Air" on CBS's "60 Minutes." As seen in the video below, the drones, or "octocopters," deliver packages to customers doors in as little as 30 minutes after they place their orders online.
Despite its rapid sales growth, the online retail giant has not been making a profit due to its growing operating expenses. However, as noted by the Wall Street Journal, Bezos has refused to raise Amazon's prices, because higher prices would reduce its overall volume.  Since online shoppers can easily compare prices from different retailers, Amazon would likely lose a significant number of sales if its prices became less competitive.
The Wall Street Journal also noted that Amazon is not strictly "profitless." Amazon simply reinvests its cash into new businesses and innovative technologies like the "octocopter," rather than paying its investors a dividend. In this sense, Amazon is building a forward-looking infrastructure that will hopefully pay out to investors at some point in the future.
However, the Wall Street Journal pointed out that Bezos could actually create more earnings today by simply reducing the amount of money that the company spends each year on risky new businesses and technologies. According to the Wall Street Journal, Amazon could also increase its earnings by using the business practice of price discrimination.
This business practice is widely used by many different online retailers. Essentially, it means selling the same products at different prices based on individual buyers. For example, the Wall Street Journal noted that travel site Orbitz (NYSE:OWW) is known to offer higher-priced hotel options to Mac users than it does to Windows users. A similar policy would allow Amazon to extract additional profits from certain demographics that are more likely to pay a higher price for a product.
Last quarter Amazon's revenue increased by 24 percent. On the other hand, so did its total operating expenses. As noted by the Wall Street Journal, Amazon's ability to maintain its high stock price may simply depend on investors' continuing belief in Bezos's "vision." Amazon closed up 0.64 percent on Friday at $386.95.
Here's how Amazon traded on Friday.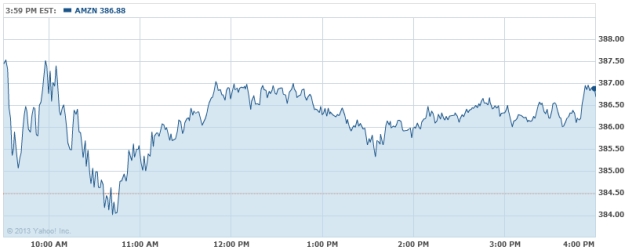 Follow Nathanael on Twitter (@ArnoldEtan_WSCS)
Don't Miss: Analysts on Apple: Good and Bad News.