Analyst: Apple CEO Tim Cook Is 'Right Man for the Time'
Ever since Tim Cook succeeded legendary Apple (NASDAQ:AAPL) co-founder Steve Jobs as CEO, various industry pundits have criticized the new CEO's leadership style and accused the iPhone maker of losing its innovative edge. After all, unless the iPad mini is considered a "new" product category, all of the products released since Cook assumed control of Apple have essentially been refreshes of previously existing products. Other critics of Cook's leadership have noted that the iPhone — the company's primary cash cow — has seen its share of the worldwide smartphone market decline under Cook's tenure as more low-cost Android-based competitors flood the market.
However, don't count UBS analyst Steven Milunovich among the anti-Cook crowd. The analyst recently reiterated his faith in the Apple CEO's leadership abilities in a research note issued to investors on Monday. According to Barron's, Milunovich cited passages from three recently published articles that he believes illuminate how Cook is the "right man for the time" to lead Apple. Based on the information that he highlighted in these articles and insights that he gained from a meeting with the Apple CEO last week, Milunovich argued that Cook is the ideal leader for the company at this stage in its development. "We think Cook-doubters will be proven wrong," wrote the UBS analyst in a note obtained by Barron's.
The first article cited by Milunovich was a blog posting written by well-known Apple commentator John Gruber. In the piece posted on his Daring Fireball blog, Gruber noted how Cook is improving Apple's operational efficiency by bringing previously disparate teams in the company's organization closer together, which allows the growing company to speed up the development and production of multiple products at the same time. "Jobs was a great CEO for leading Apple to become big. But Cook is a great CEO for leading Apple now that it is big, to allow the company to take advantage of its size and success," wrote Gruber.
The second article cited by Milunovich is a Harvard Business Review piece written by Clayton M. Christensen and Derek van Bever. As noted by Barron's, Milunovich highlighted the authors' observation that many companies are hesitant to pursue innovation despite having "massive amounts of cash." Meanwhile, Cook recently oversaw the largest acquisition in Apple's history when the company announced it was buying Beats Electronics for $3 billion.
"Cook is not beholden to spreadsheet-driven decisions," wrote Milunovich, according to Barron's. "Last year he said, 'We design our products so they surprise and delight everyone who uses them. And we never — never, ever — analyze the return on investment. We do it because it is just and right.' We believe Apple has had remarkable new market innovation success."
Cook affirmed this philosophy in a tense exchange with a representative from a conservative foundation at Apple's annual shareholder meeting earlier this year. After being asked if he would commit to only implementing policies that would benefit the company's bottom line, Cook replied, "When we work on making our devices accessible by the blind, I don't consider the bloody ROI," reports MacObserver.
While Cook may not base his decisions on the potential return on investment, Milunovich has previously pointed out the financial benefit that Apple could derive from its rumored iWatch device. In a note issued last week, the UBS analyst estimated that the iWatch alone could generate an additional $6.5 billion in revenue across fiscal year 2015 and give Apple an EPS boost of $0.15 during the same time period, reports TheStreet.
Finally, Milunovich cited the recent profile of Tim Cook that was done by The New York Times. Although much of the article focused on the differences in the leadership styles of Cook and Jobs, the UBS analyst highlighted one particular quote from renowned Apple product designer Jony Ive. "Steve established a set of values and he established preoccupations and tones that are completely enduring … honestly, I don't think anything's changed," observed Ive, according to Barron's.
UBS reiterated its "Buy" rating and $100 price target on Apple shares. Here's how Apple traded on Monday.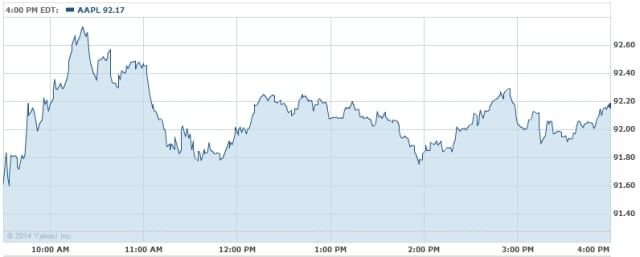 Follow Nathanael on Twitter (@ArnoldEtan_WSCS)
More From Wall St. Cheat Sheet: