Analyst: Apple Doubles Up on iPad Mini Refreshes
Enthusiasts of the iPad Mini, NPD DisplaySearch has some good news for you: Apple's (NASDAQ:AAPL) miniature tablet offering is slated for a third-quarter refresh, with a more powerful version in tow shortly thereafter. Both updates would include Apple's Retina display technology, while the second refresh would include an updated processor, according to the firm's report.
"We see two refreshes coming. One in the second half of this year, then one in [the first quarter] of 2014," said Richard Shim, a senior analyst with DisplaySearch. "The [2014] device will have a Retina display plus an updated processor."
The update is a shift from Shim's previous report, which didn't see the first refresh of the Mini coming until 2014.
The exact screen technology to be used isn't clear. Shim believes that the low-temperature polysilicon (LTPS) display found in the iPhone 5 might be applied to the tablet, although the panel yield rates slim considerably when applied to larger screens.
"Another concern is the viability of releasing a follow-up iPad mini at a price point comparable, or equal to, the current generation," said the report. "Mass production would undoubtedly affect parts costs for Apple, which has traditionally tagged refreshed products at the same cost as outgoing models."
Shim's report falls largely in line with another report from Ming-Chi Kuo, who in April noted that production setbacks would push back the release date for the iPhone 5S, the so-far unannounced cheaper iPhone model, and the second generation iPad Mini.
Analysts typically have a hit or miss record with predicting these types of things. For the last several years, Apple kept a fairly regular refresh and release routine, making it far easier to predict certain products. However, Apple has been uncharacteristically quiet recently, which has made it far more difficult to call productions shots.
Here's how Apple (NASDAQ:AAPL) traded Monday: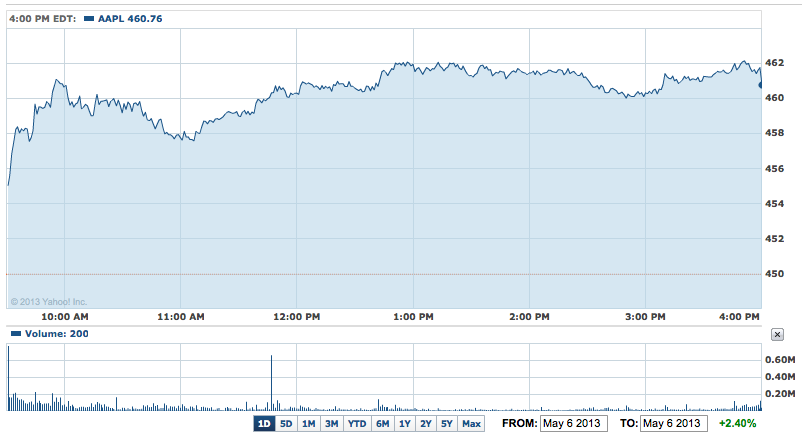 Investing Insights: Can Apple Be The Stock It Once Was?