Analyst: Apple Has These Markets to Conquer
Apple (NASDAQ:AAPL) may have begun making moves into the enterprise market, but the company's real entry into the space will be much more disruptive, according to Asymco analyst Horace Dediu. "The incumbents are not noticing Apple even as they are losing significant value to Apple in their core markets," Dediu said in an interview ahead of the icon conference in Prague, Czech Republic.
"Analysts (and consultants) find all kinds of reasons to downplay Apple's efforts and comfort the organizations who hire them [which is why the approach is generally not felt]," he said. "Also IT is changing in the jobs it's hired to do. These are all good signs that something is happening."
The analyst added that Apple first gave up its premium tag a few years ago when it launched the iPod Shuffle and the Mac mini. The company's launch of the cheaper iPad mini last October and the rumors of a low-cost iPhone have lately been much discussed as examples that Apple wanted to embrace the mass market. According to Dediu, that fact has never been in question.
"[The launch of the iPod Shuffle and the Mac mini] and the earlier move of iTunes to [Microsoft (NASDAQ:MSFT)] Windows signaled that Apple was serious about the mass market and the minimum price that a person would need to pay to become an Apple owner," Dediu said…
"If a company takes the fight to the low end it means it protects itself from a low-end disruptor and may even enter new markets."
Dediu also responded to recent comments that Apple was losing its aura of invincibility since Steve Jobs' death. According to the analyst, while Jobs was a very important influence in the company's DNA, Apple was not likely to change fundamentally anytime soon.
"[Jobs'] influence is in the priorities, values, and culture of the company," he said. "These influences exist in all companies and are very hard to change. Processes and assets may change however. But the passion to be great will not change."
Here's how Apple (NASDAQ:AAPL) traded Friday: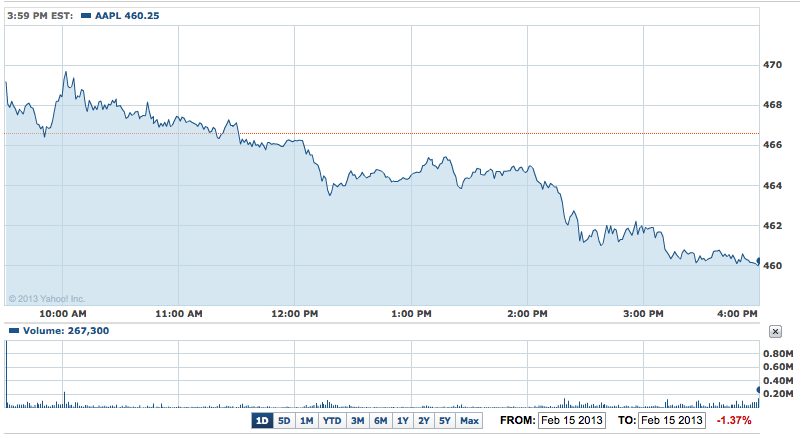 Don't Miss: Judge: Apple, Samsung Need A Lawsuit Freeze.