Analyst: Apple Revenue Will Grow Through June
As investors scrambled to get a chunk of Apple's (NASDAQ:AAPL) $17 billion bond offering yesterday, some analysts were still poring over the Cupertino-based company's 10-Q filing in search of potential upsides. Barclays (NYSE:BCS) analyst Ben Reitzes believes he found a minor upside that may indicate slightly higher revenue in the June quarter.
Ben Reitzes notes via Barron's that Apple's latest filing indicates expectations of $33.5 to $36.4 billion in June quarter revenue, based on the company's off-balance-sheet commitments such as advertising, research & development, and various manufacturing expenditures. Still, this is slightly better than Apple's guidance of $33.5 to $35.5 billion. Although capital expenditures and off-balance-sheet commitments data have previously been solidly linked to Apple's revenue, Reitzes notes that there has been a recent decline in this correlation.
Based on the recently weakened link between revenue and expected non-retail capital expenditure, Reitzes predicts that revenue in the third quarter of the fiscal year will actually rise to 37.3 billion.
Reitzes also agrees with analysts such as Wells Fargo's (NYSE:WFC) Maynard Um, who also believes that Apple's warranty accrual issues have put undue pressure on its gross margin. Like Um, Reitzes believes this pressure may be relieved in the near future, which could result in higher than expected revenue in the June quarter.
The chart below shows Apple stock movement so far this week.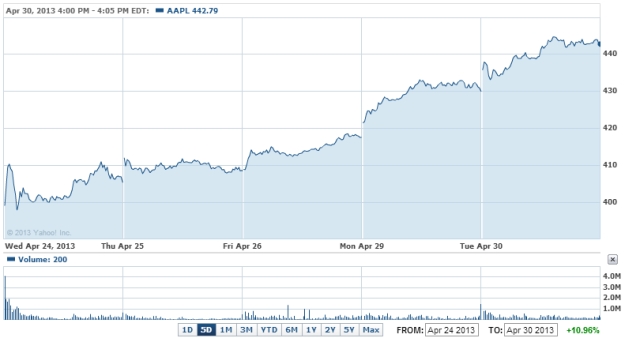 Don't Miss: Is Apple Gaining Artillery in the Patent Wars?