Analyst: Apple's Quarterly Results May Silence 'iPhone Naysayers'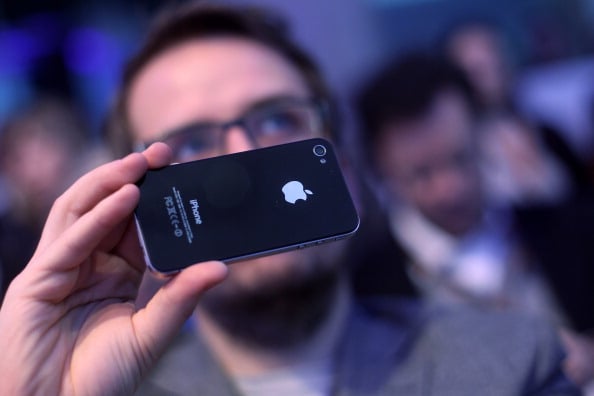 Cantor Fitzgerald analyst Brian White weighed in on Apple's (NASDAQ:AAPL) strong March quarter results in a note to investors on Thursday. Although White is bullish on Apple with a "Buy" rating and a $777 price target, the analyst had predicted quarterly revenue of $43.24 billion, slightly lower than the consensus estimate of $43.67 billion. On the other hand, White expected earnings per share of $10.29, slightly higher than the Street's estimate of $10.19. Last night, Apple announced quarterly revenue of $45.6 billion, EPS of $11.62, and gross margin of 39.3 percent.
Although White believes that the market was "pleasantly surprised" by Apple's stronger-than-expected second-quarter financial results, he reiterated his belief that "the rollout of the iPhone 6 and entry into a new product category with the iWatch this year" will prove even more important. However, White noted that Apple's iPhone unit sales of 43.72 million last quarter may silence the "iPhone naysayers." Apple's iPhone unit sales "trounced" White's own recently raised iPhone sales estimate of 36 million units.
White believes that the rumored large-screen iPhone 6 will be especially popular in China and he predicted that "the ramp with China Mobile (NYSE:CHL) will accelerate in the second half of the year." Apple is widely expected to launch the next-generation iPhone in September this year. White's prediction was bolstered by the unexpectedly strong iPhone sales in several emerging markets.
"[T]hrough the first half of 2014, Brazil was up 61 percent, Russia was up 97 percent, Turkey was up 56 percent, India was up 55 percent, and Vietnam was up 262 percent," wrote White. "We believe Apple has been expanding its distribution channels in emerging markets and has also made a increased effort to sell into India."
Like many other analysts, White overestimated Apple's second-quarter iPad unit sales. Apple reported iPad sales of 16.4 million units, significantly lower than White's estimate of 18 million units. "Importantly, iPad revenue declined by 13 percent year-over-year in 2Q:FY14 and thus the iPad sales cycle turned to negative territory, representing a deterioration from the up 7 percent in 1Q:FY14 but still off the low of down 27 percent in 3Q:FY13 that we believe will prove to be the bottom in this cycle," wrote White.
On the other hand, White's Mac unit sales estimate of 4.1 million was practically identical to Apple's reported sales of 4.14 million units. Apple's steadily decreasing iPod unit sales numbers were also essentially in line with White's estimate at 2.76 million units.
Overall, White noted that Apple's earnings call had a "positive vibe and the company sounded more confident than in recent quarters." White highlighted several impressive statistics that Apple revealed during the earnings call. The Cupertino-based company now has approximately 800 million iTunes accounts, up almost 40 percent from the 575 million accounts it had nine months ago. Apple also revealed that it has sold a total of 20 million Apple TV units, including seven million since June 2013.
Finally, White raised his revenue and EPS estimates for Apple's fiscal 2014 third-quarter based on the company's revenue guidance of $36 billion to $38 billion. The Cantor Fitzgerald analyst boosted his revenue estimate to $37.8 billion from $37 billion and his EPS projection to $8.35 from $8.02. As seen below, Apple is currently up over 8 percent in late afternoon trading today at $568.15.
Follow Nathanael on Twitter (@ArnoldEtan_WSCS)
More From Wall St. Cheat Sheet: