Analyst: Apple's Strong iPhone 4S Sales a Good Sign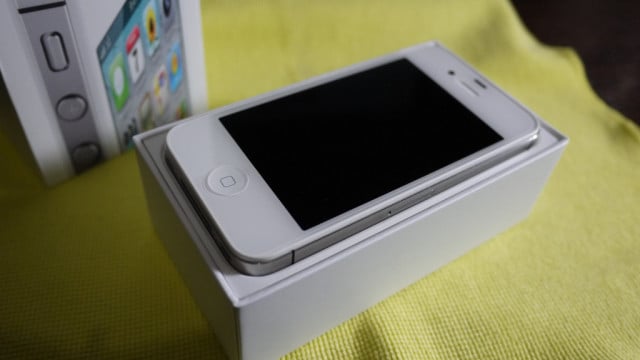 As the majority of the growth in the worldwide smartphone market shifts to emerging markets, many analysts have lamented Apple's (NASDAQ:AAPL) lack of a low-cost iPhone. As a maker of relatively expensive high-end smartphones, the Cupertino-based company has typically performed better in mature markets such as North America and Europe. Meanwhile, budget devices from established rivals like Samsung (SSNLF.PK) and up-and-coming companies like Xiaomi sell better in emerging markets. However, a recent research note from Needham & Co. analyst Charlie Wolf suggested that Apple is still maintaining a significant share of the lower-cost smartphone market through its legacy iPhone sales.
Apple sold approximately 10 million legacy iPhone 4S devices during the March quarter, according to calculations done by Wolf. "[T]he surprising strength of iPhone 4S sales in the March quarter challenges the conventional wisdom that Apple has to build a low-end phone to retain share in the smartphone market," wrote Wolf in a note obtained by Barron's. "[T]he iPhone's brand is so strong, a two-generation-old iPhone despite its premium price holds great appeal."
Not only does the March quarter's strong iPhone 4S sales challenge the idea that Apple needs a low-cost iPhone to compete in emerging markets, it also "confirms Apple's ongoing commitment to building the aspirational brand even at the low end of the market, " noted Wolf according to Barron's. Apple also recently made it easier for legacy iPhone owners to upgrade to the latest models by boosting the trade-in values for the iPhone 4 and the iPhone 4S. Apple Stores now offer up to $99 toward a new device for an iPhone 4 and up to $199 for an iPhone 4S.
In its fiscal 2014 second quarter financial results, Apple revealed that it sold 43.7 million iPhones, a new March quarter record. Although Apple doesn't break down its iPhone sales by model, Wolf was able to calculate the company's iPhone 4S sales by taking the average iPhone selling price figure provided by Apple and comparing that number to the estimated number of iPhone 5S and iPhone 5C sales, reports Apple Insider.
Based on his calculations, the Needham & Co. analyst estimated that the iPhone 5S accounted for 71 percent of Apple's March quarter sales, while the iPhone 5C accounted for only 4 percent. The remaining 25 percent of Apple's total iPhone sales were attributed to the iPhone 4S.
Apple CEO Tim Cook noted the legacy iPhone model's ability to attract new iPhone users in emerging markets during the company's March quarter earnings call. "[I]f you look at some of the numbers we're seeing on first-time iPhone buyers, people that bought the iPhone 4s, 85 percent were first-time iPhone buyers," said Cook according to an earnings call transcript provided by Seeking Alpha. "So these are extraordinary, and as you would expect, these are also heavily Android switchers. 62 percent of the people that bought the 4s switched from Android."
Based on Apple's strong iPhone 4S sales, Needham & Co.'s Charlie Wolf reiterated a "Buy" rating and a $590 price target on Apple shares. Here's how Apple has traded so far today.
More From Wall St. Cheat Sheet:
Follow Nathanael on Twitter (@ArnoldEtan_WSCS)