Analyst: Are Some of Apple's Lost Profit Margins Coming Back?
Wells Fargo (NYSE:WFC) analyst Maynard Um took a look at Apple's (NASDAQ:AAPL) recent 10-Q filing and discerned some interesting profit margin positives. Via Barron's, Um characterizes Apple's overall accounting practices as "conservative" and asserts his belief that the Cupertino-based company's cash flow hedges and overestimated warranty accruals will eventually return it more profit margin than a cursory view of its 10-Q would indicate.
Um notes that "Apple had a net deferred gain of $517 million associated with cash flow hedges, net of taxes, that was recorded in accumulated other comprehensive income as of March 30." Based on the income from its cash flow hedges, Um expects these deferred gains to "benefit gross margin by more than 150 bps [basis points], or $0.41 in EPS [earnings per share]."
Um then turns his attention to Apple's warranty accrual issues that are widely believed to be related to its well-publicized iPhone warranty readjustment for the Chinese market. Apple was prompted to make the warranty changes after significant, government-led criticism of its post-sales service in China.
Apple now offers brand new replacements that feature a one-year warranty for any returned iPhone 4 or 4S models in China, rather than repairing the phone or providing a refurbished substitute. In its 10-Q filing, Apple estimated the cost of this product warranty accrual to be $414 million…
However, excluding this one-time expense, Um calculates that Apple would have declared a profit margin of 38.4 percent, rather than 37.5 percent. Um reiterates that Apple's accounting is quite conservative and he foresees a potential "tailwind" to Apple's gross margin. Um believes that warranty accruals could actually decline, especially since overall unit shipments are expected to decline over the next few quarters.
For all these reasons, the analyst foresees some "lost" Apple profit margin returning in the near future. Rather than providing a specific target price, Um gives Apple shares a "valuation range" of $485 to $525 and reiterates an Outperform rating on the stock.
Apple closed up 2.16 percent at $417.20 on Friday. The chart below outlines Apple's stock movement throughout the week.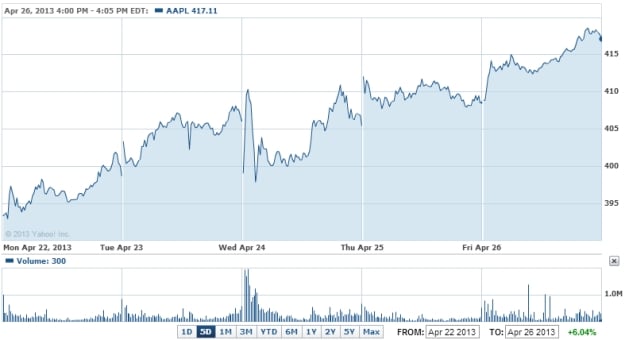 Don't Miss: Apple Suppliers Learn Not to Keep All Eggs in One Basket.