Analyst: 'Fear' Factor Fueling Apple Gain Train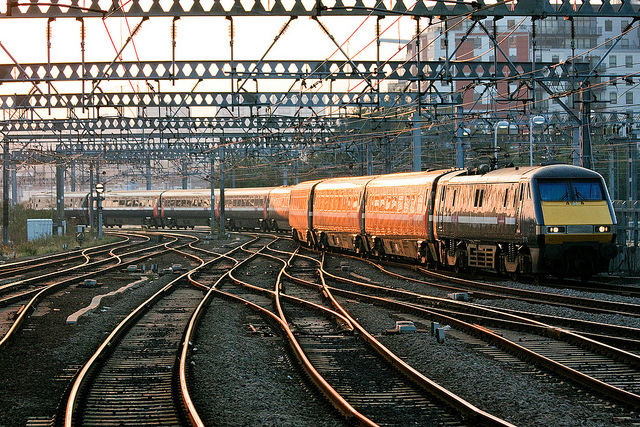 Is Apple's (NASDAQ:AAPL) recent stock rally being fueled by investors' fear of missing the next big thing? Most analysts expected a temporary run on Apple shares due to the company's $17 billion bond sale and the associated dividend increase. On April 23, Apple announced a $55 billion increase to its capital return plan, as well as a 15 percent increase in its quarterly dividend. Since the announcement, Apple shares have risen 12 percent.
Although the initial boost can be attributed to the above actions, Goldman Sachs' (NYSE:GS) Bill Shope thinks there may be an additional "fear" factor at work that is also helping drive the stock higher. Via Barron's, Shope explains his reasoning in a note to investors: "We're now seeing the beginnings of 'the fear trade' on Apple. With Apple's share price rebounding heftily since it reported earnings on April 23rd, our conversations with investors this week suggest that many are starting to worry they may be underexposed to a continued near-term rally in the name."
In other words, investors would like to increase their exposure to Apple's gains as much as they would like to reduce their exposure to Apple's losses. Shope notes that the recent trend is "the reverse of the process we saw in late 2012, where investors were trimming as the stock continued to sell off aggressively."
Besides Apple's ambitious capital allocation plans, the Cupertino-based company may also be getting some lift thanks to rumors of its impending low-cost iPhone release. A cheaper iPhone could increase Apple's presence in lucrative emerging markets and help it to better compete against low-cost options from rivals such as Samsung (SSNLF.PK). A rumored display production increase at one of Sharp's plants also helped to build interest in the stock as buyers anticipate a fall release for Apple's iPhone 5S.
However, despite the "gain train" of factors pulling Apple's stock upward, Shope notes that there was also an unusual increase in Apple shorts. According to Shope, April's short interest data shows that "Apple's short interest increased by 107.2 percent over a 2 week period."
Can Apple sustain this rise until it enters its next product cycle? Whether Apple's recent gains are a transitory phenomenon or the beginning of a long-term trend, Shope believes that "the shorter-term downside risk certainly appears to be less severe than many had previously feared."
Here's how Apple has traded over the last week.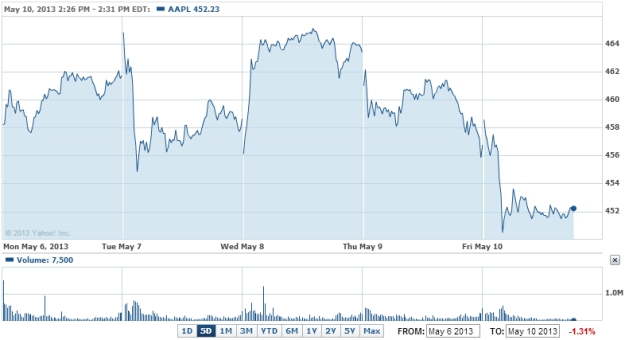 Don't Miss: Apple iTunes to Microsoft: Thanks, But No Thanks.