Analyst: Here Are the 'Interesting Tidbits' From Apple's March Quarter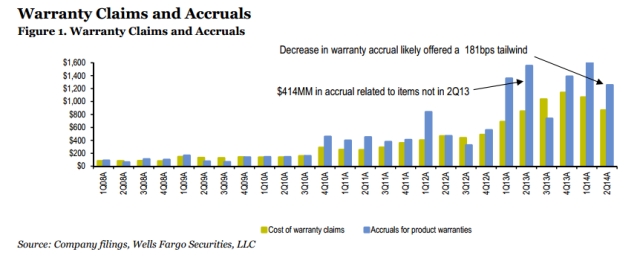 Wells Fargo analysts Maynard Um, Munjal Shah, and Santosh Sankar offered a brief overview of Apple's (NASDAQ:AAPL) quarterly 10-Q filing in a recent note to investors. Although the Wells Fargo analysts have not released an exhaustive study of the Cupertino-based company's quarterly report, their "'First Look' Picture Book" research note provided "a quick look into interesting tidbits on first glance."
Senior analyst Um and his colleagues were especially interested in the various tailwinds and headwinds that affected Apple's March quarter. According to the analysts, a drop in Apple's warranty expenses was one notable March quarter tailwind. In the second quarter of fiscal 2014, Apple's warranty accruals decreased by $824 million compared to the previous quarter. The analysts estimate that this boosted the company's gross margin by 181 basis points or $0.93 in earnings per share. Apple reported a gross margin of 39.3 percent for the March quarter, beating the consensus expectation of 37.6 percent.
The analysts believe that this benefit could carry over into Apple's fiscal third quarter if "claims remain flat and accruals reverse to the level of claims." If that happens, Apple's gross margin could be boosted by as much as 100 basis points in the June quarter. However, as noted by the Wells Fargo analysts, the benefit could be even greater, since Apple's accruals have fallen below claims in the fiscal third quarter periods over the past two years. Apple is anticipating a gross margin between 37 and 38 percent according to its fiscal 2014 third-quarter guidance. Um and his colleagues noted that the company's improved accrual status "should provide some comfort" for that guidance. In the meantime, Wells Fargo is projecting a gross margin of 38.3 percent.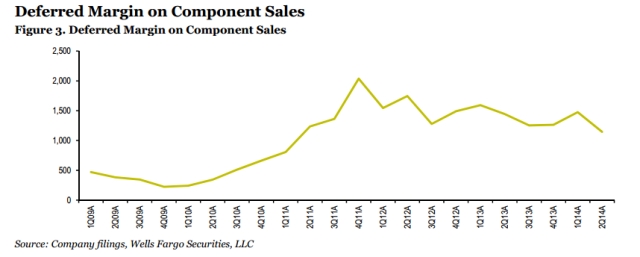 Another March quarter tailwind highlighted by the Wells Fargo analysts was Apple's deferred margin on component sales. The analysts estimated that this decline was a 72 basis points tailwind for Apple's gross margin, or a $0.37 EPS benefit.
On the other side of the coin, Um and his colleagues also highlighted a March quarter headwind from the iPhone maker's higher accrued selling and marketing expense. Although Apple's accrued marketing and selling expense declined sequentially during the past two fiscal third quarter periods, it increased this year by $260 million. According to the analysts, this was likely due to expenses related to the launch of the iPhone on China Mobile's (NYSE:CHL) network in January. The analysts estimated that this had a $0.30 impact on Apple's EPS. They also noted that the expense could increase again in the fiscal third quarter when Apple is expected to launch the next-generation iPhone.
In conclusion, the Wells Fargo analysts believe that Apple's unexpectedly high gross margin in the March quarter was likely helped by these "accounting tailwinds." However, they noted that some of these tailwinds will also likely help Apple's June quarter. On the other hand, Um and his fellow analysts reiterated their belief that Apple would soon need to choose between a higher average selling price/gross margin or higher unit sales. As stated in a previous note, Um doesn't believe that Apple can maintain both at their current levels. Wells Fargo maintains a "Market Perform" rating and a valuation range of $515-$585 on Apple shares.
More From Wall St. Cheat Sheet:
Follow Nathanael on Twitter (@ArnoldEtan_WSCS)