Analyst: Here's Proof the iPhone Outsells Samsung
Did anyone say iPhone demand is dropping off? Raymond James analyst Tavis McCourt does not believe it. Apple's (NASDAQ:AAPL) iPhone 4, iPhone 4S, and iPhone 5 have together outsold Samsung's (SSNLF.PK) Galaxy S and Galaxy Note series of phones, according to McCourt's findings. While Samsung's smartphone, and now phablet, lineup has been "tremendously successful" over the years, the "sudden negative sentiment related to [the] iPhone" prompted McCourt to make the comparison. He charted out his findings to find that the fears of Apple doubters may have been unfounded.
Should you buy or sell Apple's stock ahead of earnings in a few days? Our 20-page proprietary analysis will help you save time and make money. Click here to get your SPECIAL REPORT now.
"We estimate Apple has sold approximately 219 million cumulative iPhone 4, 4S, and 5 devices (which excludes sales of the original iPhone, iPhone 3G, and 3GS) since the launch of the iPhone 4 in June 2010 vs. 131 million for Samsung's Galaxy Series S and Note smartphones since the launch of the Galaxy S also in June 2010," the analyst wrote in a note to investors, according to Barron's.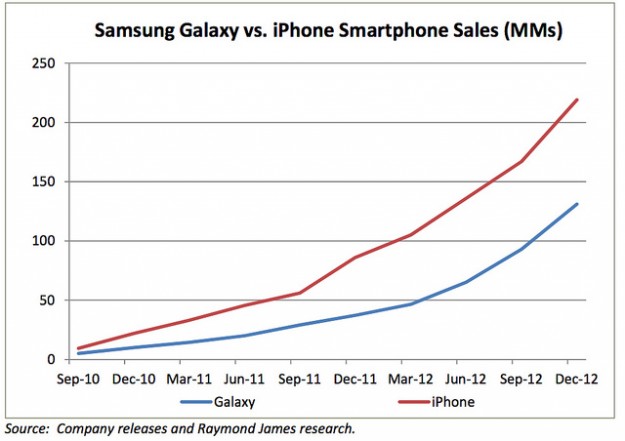 For the Galaxy handsets, McCourt used Samsung's periodic unit sales announcements and made sales trend "smoothing assumptions for the dates in between."
For the iPhone, the research used opening weekend unit sales announcements from Apple and assumed that a 66 percent share of quarterly reported unit sales were for the newest device at the time and a 17 percent share for prior generation models still on the market.
Start 2013 better than ever by saving time and making money with your Limited Time Offer for our highly-acclaimed Stock Picker Newsletter. Click here for our fresh Feature Stock Pick now!
"Earlier this week, on January 14, Samsung announced via Flickr, it has sold more than 100 million Galaxy S Series phones (S, S II and S III) and more specifically that it had sold 40 million each of its Galaxy S II and S III models. For iPhone fourth quarter 2012 data, we are using our estimate for sales of 48 million iPhones," explained McCourt, who has an Outperform rating on Apple and a $690 price target.
Don't Miss: Is This Device an iPad Killer?