Analyst Hikes Apple Price Target Over iPhone 6 and More
A prominent firm has upped its price target on Apple (NASDAQ:AAPL) shares based on the potential revenue that the company could derive from the upcoming iPhone 6 and other new products that are expected to be released this year. RBC Capital Markets analyst Amit Daryanani boosted his price target on Apple to $100 per share from a previous target of $96 per share, according to a research note obtained by Apple Insider. This puts the RBC analyst's new price target close to the $100.72 split-adjusted peak that Apple stock reached in September of 2012. Daryanani also reiterated an "Outperform" rating on Apple.
Apple shares began trading at $92.69 on Monday, June 9, after the stock underwent a previously announced seven-for-one split. The split gave every Apple shareholder of record six additional shares for every share held and increased the company's total outstanding shares from 861 million to around 6 billion shares. Before the split, Apple's peak stock price was $705.07, while its highest closing price was $702.10.
In his research note issued on Thursday, Daryanani justified his price target hike by citing the increased revenue that Apple will likely derive from its higher-end iPhone 6 model. Multiple media outlets have reported rumors that Apple's upcoming iPhone 6 will be available in two larger screen sizes of 4.7 inches and 5.5 inches. Daryanani believes that Apple's phablet-sized iPhone could sell at an on-contract starting price of $299.
Apple's iPhone has long lagged its Android-based competitors in larger screen size options. The iPhone 5S, Apple's current flagship model, has a screen size of four inches. Meanwhile, Samsung (SSNLF.PK) — Apple's primary rival in the smartphone market — has long offered its smartphones in multiple sizes.
Some industry watchers believe that Apple's release of a larger-screen device will drive a higher than usual number of users to upgrade their iPhones. This belief appears to be backed up by the results of a recent study released by market research firm Canalys. According to Canalys, smartphones with screen sizes of five inches and up accounted for one-third of the total smartphone shipments in the first quarter of 2014 and that size range is now the fastest growing segment of the overall smartphone market.
Besides the increased revenue potential from a larger-screen iPhone, Daryanani noted the positive impact that a refreshed iPad would likely have Apple's overall hardware sales this fall, reports Apple Insider. The RBC analyst also cited the importance of the new product categories that Apple is expected to enter this year. One of those categories is believed to be wearable tech. Like many other analysts, Daryanani believes that Apple will launch the so-called "iWatch" or similar wrist-worn wearable tech device this fall. He believes the iWatch will be a health-monitoring device that will increase the stickiness of Apple's ecosystem by working seamlessly with the iPhone maker's other products.
Finally, Daryanani made a "wild card" prediction that Apple is working on a television set, reports Apple Insider. Although the RBC analyst didn't offer any new evidence for this prediction, he believes that Apple's recent decision to increase its in-house ad creation is a sign of its long-term interest in making a high-definition television set.
RBC Capital Markets isn't the only prominent firm to boost its price target on Apple following its seven-for-one stock split. In a research note issued on Wednesday, Deutsche Bank raised its price target on Apple shares to $105 from $92.86 and reiterated a "Buy" rating, reports WatchListNews. Like RBC Capital Markets' Daryanani, Deutsche Bank's analysts saw upside from a high demand for the iPhone 6 and upcoming new product introductions.
Here's how Apple has traded so far this week.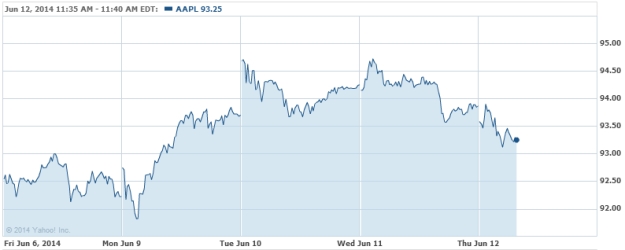 More from Wall St. Cheat Sheet:
Follow Nathanael on Twitter (@ArnoldEtan_WSCS)