Analyst: Take a Long View on Apple Share Price Volatility
Is Apple (NASDAQ:AAPL) really in decline or is its recently falling share price given too much weight by most Apple analysts? Horace Dediu, who has a reputation as one of the most prescient and thoughtful Apple analysts working today, definitely believes that there are many exaggerated and distorted claims being made about Apple's so-called share price volatility.
In a discussion with The Next Web, Dediu identifies two types of analysts that are often incapable of providing accurate Apple analysis. "Sell-side analysts" who work for financial firms tend to over concentrate on small supply chain changes. Their analysis is also warped by the conflicting necessity of managing their clients' expectations.
On the other hand, market analysts from research firms such as IDC and Gartner tend to lump Apple in with larger market trends. This can also be a mistake since Apple tends to be a market leader rather than a follower.
Dediu notes that independent bloggers, who have neither a financial stake in Apple nor an over-reliance on macro-market statistics, can often provide the most accurate and informed analysis on the tech industry. Independent bloggers also often have a work history within the industry that gives them an insider's perspective on Apple's intentions.
Regarding the "decline" of Apple's stock since its peak in September 2012, Dediu estimates that half of Apple's shareholders bought their shares when Apple stock was rising last year. Since this is the first major decline that they have personally witnessed, these relatively new shareholders give Apple's recent dip in share price far more significance than it should objectively get.
Dediu notes that Apple's stock has risen and fallen dramatically several times over the past decade. However, recent events tend to distort many shareholders' long-term perspective on Apple's future.
In support of the long-term perspective, here's how Apple has traded since 1984.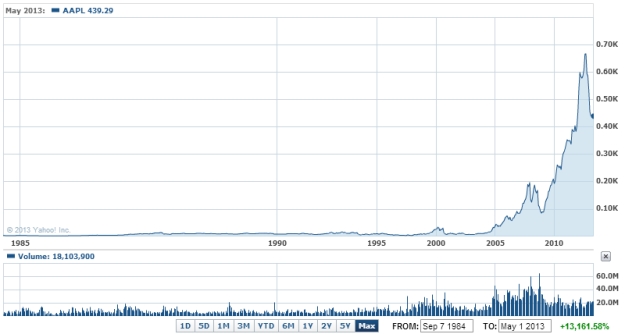 Don't Miss: Will Apple and Samsung Benefit From Sony's SmartWatch Failure?