Analyst: The iPhone 6 Will Replace Your Wallet
With a database of 500 million active iTunes accounts that are tied to customer credit cards and a mobile operating system, Apple (NASDAQ:AAPL) has all the requisite parts to build its own digital wallet. Piper Jaffray analyst Gene Munster wrote in a note sent to the Wall St. Cheat Sheet Friday that his firm expects a payment option on iOS to be included on the rumored iPhone 6, which he predicted will be launched in the first half of 2014.
While Munster acknowledged that "it's unclear how big of an opportunity it will be for Apple, he does believe that "if Apple can recreate the wallet, it would create tremendous stickiness in terms of iOS mobile products." Alongside the prediction, Piper Jaffray reiterated its Overweight rating on Apple's shares and a $767 price target.
A digital wallet seems a simple concept, but it provides Apple with several means to improve the shopping experience. The three areas where many mobile payment solutions have focused are on lines, receipts, and loyalty, meaning that, with a strong product, the iPhone maker — through is iconic device — can help its customers avoid long lines at checkout, store their receipts digitally, and never have to remember their loyalty cards. The product will be good for businesses as well…
Munster does not believe that Apple's digital wallet will be revolutionary or even very different from the digital payment options currently available. "Where we view Apple as different is that it has a mobile OS — like Google (NASDAQ:GOOG) — and 500 million active iTunes accounts with credit card information, which we believe is the largest database of payment information collected by any company," he wrote. The analyst expects that the number of active iTunes accounts will grow by approximately 60 percent, year over year.
EBay's (NASDAQ:EBAY) Paypal is a major competitor in this arena, with approximately 120 million accounts reported in the fourth quarter, and Munster estimates that the division will experience growth of 15 percent, year over year.
There were two areas that Munster outlined for Apple to focus on in order to be successful: retail partnerships and security. "Interestingly for Apple, it already has a number of retail partners that carry products," he wrote, citing Wal-Mart (NYSE:WMT), Target (NYSE:TGT), and Best Buy (NYSE:BBY). AuthenTec — which Apple acquired for $356 million in July of 2012 — developed fingerprint scanning technology that could give the company a unique biometric security option for its solution in that area.
But the analyst did note one concern for Apple: mobile advertising. "In our opinion, the most visible let down for Apple in terms of entering a new space has been mobile advertising," he said, noting a problem faced by many companies with mobile products.
Here's how Apple (NASDAQ:AAPL) traded Friday: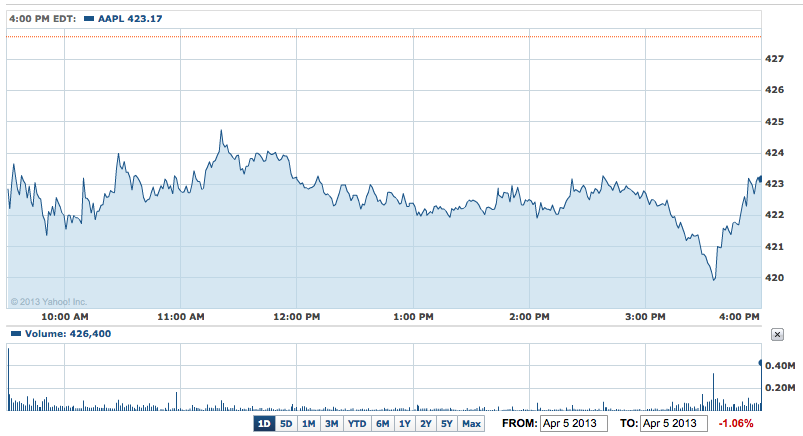 Don't Miss: Is Apple's iRadio Almost Dialed In?