Analyst: Will a Low-Cost iPhone Really Help Apple?
Will a cheaper iPhone give Apple (NASDAQ:AAPL) an edge in emerging markets, or will it just hurt the company's overall profit margins? Many industry analysts have been calling for Apple to release a low-cost iPhone in order to better penetrate markets like China. Although some analysts predict that a cheaper iPhone could increase Apple's market share in these places, there are also fears that a low-cost device would merely cannibalize the sales of premium iPhones that have a higher profit margin.
Motley Fool analyst Austin Smith addresses some of these concerns by noting that the Chinese smartphone market is highly stratified. In other words, the Chinese consumers that already buy Apple's current iPhone devices are an elite economic group. These consumers are not likely to switch from a premium iPhone to a cheaper iPhone, because cost is not their primary concern.
However, there is a large untapped market of potential Apple consumers that would buy an iPhone if it was priced closer to $100. Since the consumers who would buy a cheaper iPhone would be a completely new customer base, the low-cost iPhone wouldn't be cannibalizing any of Apple's existing iPhone revenue in China.
According to industry research firm Canalys, most of China's extraordinary smartphone market growth is driven by low-price smartphones. These phones can retail for as little as $64. In contrast to the majority of Chinese smartphones, Apple's iPhone 5 sells for 5,288 yuan, or about $862. Even the 8GB iPhone 4 retails for about $503 in the Chinese market.
Smith notes that some analysts try to draw parallels between the impact of the iPad mini on iPad sales, and the potential impact of a low-cost iPhone on regular iPhone sales. However, Smith points out that the iPad mini cannibalized full-size iPad sales because the lower-margin device was still fairly similar to the iPad.
For all these reasons, Smith believes that a low-cost smartphone, even with a lower profit margin, would still most likely grow Apple's revenue in China. The only uncertainty is how well the Cupertino-based company would fare against phone-makers like Samsung (SSNLF.PK), Nokia (NYSE:NOK), and HTC, since these companies are already entrenched in the Chinese low-cost smartphone market.
Apple shares closed down 0.83 percent at $452.97 on Friday after shedding $3.80 from its price at the opening bell. Here's how Apple has traded over the past week.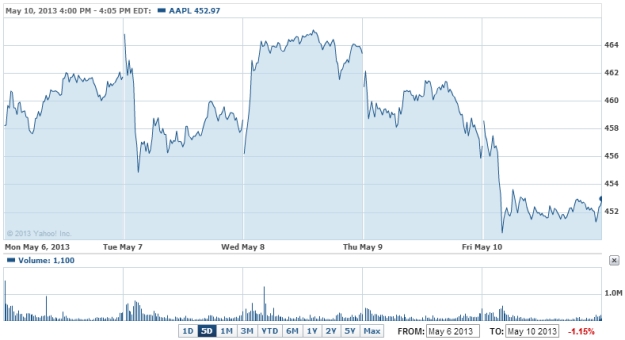 Don't Miss: Why Is This Apple Supplier Turning to Samsung?