Analysts: Apple's Partnership With China Mobile Likely to Boost Sales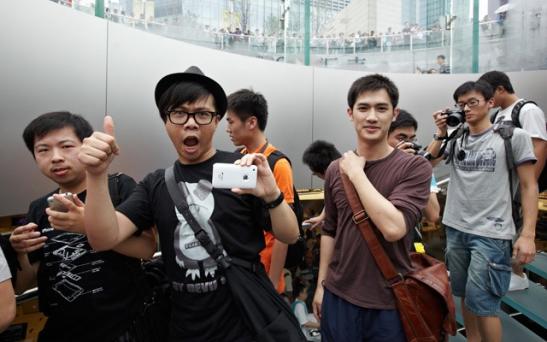 Analysts seem optimistic about Apple Inc.'s (NASDAQ:AAPL) recent deal with China Mobile, saying that it is likely to boost sales of the iPhone in China. Wedge Partners says it sees the possibility of a rise in total sales per month from 2.7-2.8 million to a range of 2.8-2.9 million. Apple hopes that the new partnership may be the key to tapping into the Chinese market, which has become increasingly important to the company.
In the past, Apple has struggled to find a place in the Chinese market, having faced growing competition from rivals; the deal with China Mobile is predicted to change that, as the company brings it's huge network of subscribers with it. "This is one of the biggest partnership announcements Apple has made in the past several years," said Manoj Manon, of consulting firm Frost & Sullivan, who spoke to the BBC. "It gives them access to more than 10 percent of of the global mobile phone users. It is an incredible growth opportunity for Apple," he said.
Apple's CEO Tim Cook believes that the China will soon replace North America as Apple's largest source of revenue; given that the iPhone is Apple's most important product in terms of sheer earnings power, it seems that any increase in sales of the iPhone in China will bode well for Apple. In a statement Cook said of the the partnership that it presents Apple with "the opportunity to bring iPhone to the customers of the world's largest network," per BBC News.
China is already the world's largest smartphone-using company, boasting 1.2 billion users. China Mobile was one of the first networks to be awarded China's 4G licenses earlier this month and is currently the world's largest carrier, with more 760 million subscribers; China's other two major providers, China Unicom and China Telecom, already offer iPhones, according to the BBC.
iPhone sales have slumped in China over the past few months, with many subscribers preferring cheaper models by Samsung and domestic Chinese developers; Chinese most popular smartphone manufacturers considered to be Samsung, Lenovo, and Coolpad according to consultants at IDC who spoke with BBC News. Apple's 5C was developed and released in part to challenge those rivals by providing a cheaper version of the iPhone, although it's too soon to say how much of an impact the introduction of the 5C will make for Chinese consumers.
More From Wall Street Cheat Sheet: