Analysts Ponder Apple's Rumored Beats Acquisition
Wells Fargo analyst Maynard Um and Cantor Fitzgerald analyst Brian White weighed in on Apple's (NASDAQ:AAPL) rumored bid for premium headphone maker Beats in new research notes released on Friday. Besides commenting on the Beats acquisition rumors, Cantor Fitzgerald analyst Brian White also examined the latest data gleaned from Apple'sAsian supply chain. White reiterated a "Buy" rating and a $777 price target on Apple shares, while Um maintained a "Market Perform" rating and a valuation range of $515 to $585.
White noted that April sales for companies in the firm's so-called "Apple Barometer" were "stronger than typical seasonality." Cantor Fitzgerald's Apple Barometer monitors the sales of various Taiwan-based suppliers that generate a majority of their sales revenue from Apple. Sales in April increased by 7 percent month-over-month — close to a record for growth in April, according to the Apple Barometer. White also noted that the 7 percent growth seen in April was well above the average decline of 1 percent that has been seen in the previous nine years. On the other hand, Hon Hai Precision Industry – also known as Foxconn — reported a 4 percent month-over-month decline in April. Hon Hai is the biggest contract electronics assembler in the world and its primary client is Apple. According to Apple's latest supplier list, the iPhone maker uses twenty-nine separate Hon Hai facilities for the assembly of its various products.
Finally, the Cantor Fitzgerald analyst offered his thoughts on what Apple hopes to gain from its acquisition of Beats. According to unnamed sources cited by the Financial Times, Apple is close to finalizing a deal to buy Beats for $3.2 billion. According to White, Apple is most likely eyeing Beats Music, the headphone maker's recently launched subscription music-streaming service. Beats Music was launched in January and is available on iOS, Android, Windows Phone, and on the Internet for $9.99 per month.
As noted by White, Beats Music features "over 20 million tracks, no ads, high audio quality, and a very creative user interface." The music-streaming service's unique user interface may be what is driving Apple's interest in Beats Music, according to White. As stated on the official Beats Music blog, "Tell Beats Music where you are, what you're feeling and who you're with and we'll serve you a unique stream of music that fits your situation perfectly." White believes that Apple will use Beats Music's "proprietary algorithms" for other media services, such as movies.
Like White, Wells Fargo's Maynard Um believes that Apple's interest in Beats is likely centered on its "cross-platform music subscription service." However, Um argued that Beats Music currently "lacks the scale" to be worth $3.2 billion as either a "cross-platform for an ad business" or as a purely music subscription business. Although Um noted that Beats' high-margin headphones mesh well with Apple's "premium strategy," he also feels that boosting accessory revenue is too focused on the "near-term."
Um also speculated that Apple may have bought Beats Electronics in order to acquire its intellectual property. However, it is not clear if the company holds any patents that would justify a $3.2 billion price tag. One of Um's few positive observations was that Beats co-founder Jimmy Iovine would likely benefit Apple with his extensive music industry contacts.
Despite the mostly positive sales data from Cantor Fitzgerald's "Apple Barometer" and the rumors of a large acquisition that could give the company a competitive edge in the music-streaming market, Apple's stock price has dipped in early Friday morning trading. Here's how Apple has traded so far today.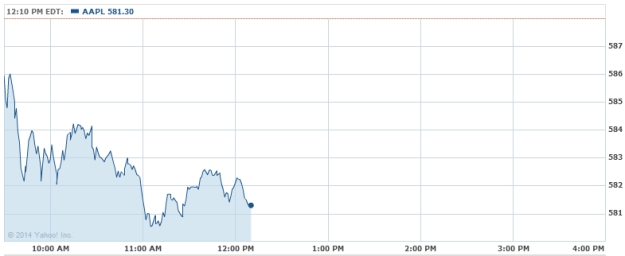 More from Wall St. Cheat Sheet:
Follow Nathanael on Twitter (@ArnoldEtan_WSCS)