Analysts Were Right, Q3 Was Hard for IBM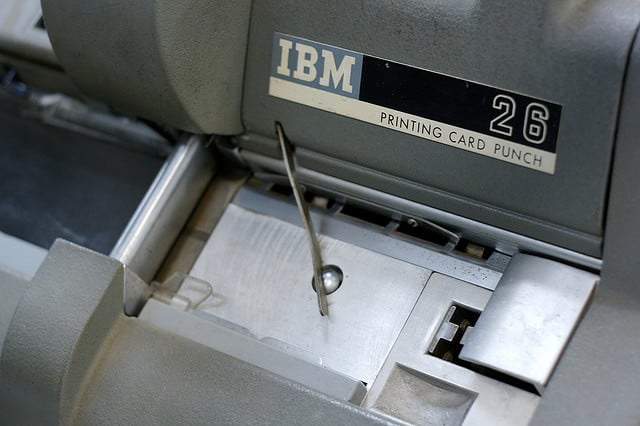 "In the third-quarter we continued to expand operating margins and increased earnings per share, but fell short on revenue," explained International Business Machines (NYSE:IBM) Chairman, President, and Chief Executive Officer Ginni Rometty in the company's earnings press release.
The world's largest technology-services company reported third-quarter earnings that surpassed Wall Street's expectations, but revenue came in below estimates. IBM reported that, excluding certain items, earnings rose to $3.99 per share, from $3.62 per share in the year-ago quarter, while revenue dropped 4 percent to $23.72 billion from $24.75 billion a year ago. Comparatively, analysts had expected the company to report earnings per share of $3.96 on a revenue of $24.75 billion.
Analysts did warn that this quarter could be a difficult one for technology companies such as IBM because of political instability, volatile currency rates, and lower corporate spending on IT. While the company has its own particular demons, as the first large IT vendor to report third quarter results, its earnings will serve as warning sign for Wall Street. "IBM is the first of the large IT vendors to report September quarter results, and given the company's broad reach across the IT world, we believe investors will focus on the implications across the tech world at large," Brian White at Cantor Fitzgerald said in a report published before the company's results were released after the bell on Wednesday.
The third-quarter was the sixth-consecutive drop in quarterly sales, coming amidst sluggish spending on computer hardware and falling demand in emerging markets that were once hotspots for growth. "We are taking action to improve execution in our growth markets unit and in the elements of our hardware businesses that are underperforming," said Rometty of the company's problem areas.
A particular source of balance sheet strain was IBM's Asia Pacific region, where sales declined 25 percent from the year-ago quarter. The third quarter marked the first time IBM posted a revenue decrease in its traditional growth markets, the developing economies, which include China, where sales fell more than 20 percent. "Unless IBM begins to rebound in these regions meaningfully, we believe that it will be difficult for IBM to see any upside to its operating results given the pressure on revenue and profitability," Barclays analyst Ben Reitzes wrote in a report last week, according to Bloomberg Businessweek.
But economic factors were not the only drags on IBM in the third quarter. With new competitors who rent computing power and software to clients via the Internet, investors will be looking to see if the company has found new sources of revenue growth and whether IBM's business model has stabilized or is continuing to deteriorate. According to  Rometty, where IBM "identified high growth opportunities" — including cloud, mobile, business analytics, and security — the company "pursued them aggressively." That thinking, said the CEO in the earnings release, "underscores our strategy to continuously transform the company to high value."
Yet, IBM still has to deal with the fact that its services business and its systems and technology group were responsible for depressing its revenue, posting a 3 percent and a 17 percent year-over-year decline, respectively. Only its System z servers experienced growth over the three month period, as sales grew 6 percent. Comparatively, sales for all of the company's systems brands posted double-digit declines, year over year. In total, the company lost $713 million from its hardware business in the first nine months of 2013, compared to the $253 million in profit the unit generated in the year-ago period.
With problems plaguing the hardware business, "the company may need a major overhaul of its strategy to really muster any growth in the hardware division long-term," added Reitzes.
Results from IBM's cloud computing and software business were unsurprisingly strong compared to its hardware business. Software revenue rose 1 percent, bolstered by a 20 percent increase in sales at the company's Smarter Planet unit, which includes Smarter Commerce. Cloud sales also rose 70 percent, year over year, soaring above $1 billion. However, the third quarter's results did fall below the year-ago period, when revenue for Smarter Planet and Cloud grew 25 percent and 80 percent respectively.
Investors are bidding shares of IBM down $13.84, or 7.41 percent, to $172.89 in pre-market trading this morning.
Investing Insights: Can Apple Benefit from a New Big Hire?