Android Gaming: Fragmentation Stands in the Way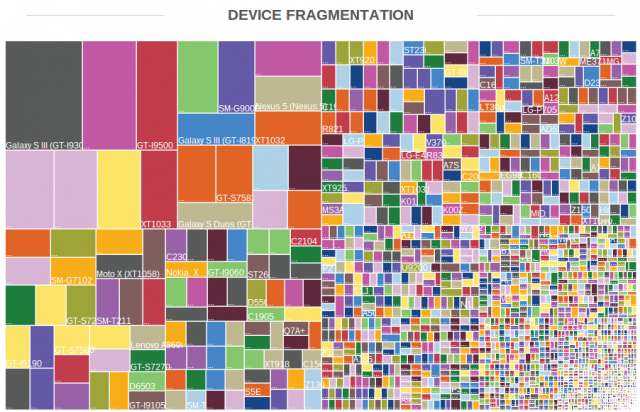 Fragmentation — as visualized above in OpenSignal's August report on the Android market — is a major problem for Android game developers, even as the iOS gaming market pulls ahead with Apple's Metal API and 64-bit processors. AppleInsider's Daniel Eran Dilger reports that while many new, high-end Android phones feature faster chips, more RAM, and more processor cores than Apple's iPhone 6 and iPhone 6 Plus, they still can't match the new iPhone models in CPU performance. Since Apple's new A8 processor is only 20 percent faster in CPU benchmarks than the A7 from last year, even the iPhone 5s remains competitive against this year's expensive Android models. The gap is larger in GPU performance.
Dilger notes that versions of Samsung's Galaxy S5 and Note 3, equipped with Qualcomm's quad-core Snapdragon 801 Application Processor with Adreno 330 graphics, or Google's Nexus 5, which features a slightly older Snapdragon 800 with the same Adreno 330 GPU, return good results on benchmarks for core graphics power, but perform poorly on tests of OpenGL APIs, which simulate how video games actually render. Other Android phones like the HTC One M8 and this year's Moto X return the same results — results which Dilger concludes demonstrate that Android makes inefficient use of the underlying hardware when it comes to completing real world tasks.
Hardware fragmentation means that performance of Android phones that aren't expensive flagship models is even worse, and the variety of components used across the wide range of Android phones makes it difficult for developers to get their games to perform consistently.
Fragmentation, combined with poor hardware optimization by Android and the market's tendency toward cheaper Android phones, results in a gaming market centered around basic titles.
The current top ten highest grossing games for iOS — currently Clash of Clans, Game of War – Fire Age, Candy Crush Saga, Big Fish Casino, Farm Heroes Saga, Hay Day, Puzzle & Dragons, Brave Frontier, Kim Kardashian: Hollywood, and Bubble Witch 2 Saga — are all available in Google Play. But as Dilger points out, many of these games are quite simple, and centered around selling in-app purchases. While only two of iOS's current top ten paid games — Five Nights at Freddy's, Minecraft, Heads Up!, Buddyman: Kick 2, Goat Simulator, Geometry Dash, Plague Inc, Bloons TD 5, Pumped BMX 2, and EA Monopoly — only two are missing from Google Play.
But all games that are available on Android aren't playable, or even compatible with the most recent Android devices, and even Samsung's Galaxy S3 can't reliably play the most popular Android games. As Dilger notes, the top comments on Android's most popular paid games are from users of Samsung's high-end devices, who complain that games don't function properly on their devices. All of the top ten "editor's choice" or "best new" games for Android are available for iOS, and many that are new to Android aren't new to iOS.
Five of the top ten editor's picks in the App Store are games that use Apple's new Metal API to deliver improved performance on the iPhone 5s, iPhone 6, and iPhone 6 Plus, and Dilger reports that developers are porting their top iOS games to Metal before Android to fulfill iOS users' demand for games that take advantage of its premium hardware.
While iOS is still very much the premier platform for developers, iOS can't match Android's growth in adoption rate or game revenue. As we reported recently, games represent approximately 40 percent of downloads in both the iOS App Store and on Android's Google Play, and account for 75 percent of iOS App Store spending and 85 percent of Google Play store spending. While iOS games generated about 2.4 times as much revenue as Android games last year, and iOS App Store game revenue grew more than 70 percent between the second quarter of 2013 and the second quarter of 2014, Android game revenue grew faster, more than doubling in the space of a year.
In the same year, Android's share of the combined smartphone and tablet installed user base jumped 8.4 percentage points to reach 70 percent as the user base hit 2.1 billion worldwide. With Android's gaming spending and adoption rate growing significantly faster than those of Apple's iOS, it's hard for developers to ignore the large — and growing — Android game market.
But for now, and likely for quite some time to come, Android is limited to evolving into the best market for developers of simple games, and will continue to be problematic for developers of more complex, resource-intensive games. As mobile devices — and mobile games with it — become more prevalent in the emerging markets where Android seeks to expand, developers will see more consumers spending money on Android games. But those consumers will be using a huge variety of Android devices and software versions, and fragmentation is a slow, difficult problem for Google to fix. Developers will find it lucrative to produce simple games that will be compatible with a wide variety of Android devices and software versions, but those developing premium games will still find it troublesome to deal with the thousands of different Android models on the market.
More From Tech Cheat Sheet:
Want more great content like this? Sign up here to receive the best of Cheat Sheet delivered daily. No spam; just tailored content straight to your inbox.