Android One: A Cheap Smartphone Game-Changer?
With the first phones under Google's new Android One initiative launching in India on Monday, Google has kicked off its program to bring better low-cost Android phones to emerging markets. But after the phones have been revealed and the initiative is seen as a clear way for Google to gain better control of the Android operating system, a big question still remains: Could Android One lead the way to better budget smartphones, not only in India but around the world?
What is the Android One program?
First announced at Google's I/O developers' conference this summer, Android One is Google's initiative to make high-quality smartphones accessible to as many people as possible. On Google's Official Blog, senior vice president for Android, Chrome, and apps Sundar Pichai detailed the launch of the first Android One phones, which are rolling out to India first. The first phones are created in partnership with regional brands Micromax, Karbonn, Spice, and chipmaker MediaTek, and are available starting at Rs 6,399, or about $105.
Hardware partners who will launch Android One phones in the future, with a variety of screen sizes, colors, hardware configurations, and "customized software experiences," include Acer, Alcatel Onetouch, ASUS, HTC, Intex, Lava, Lenovo, Panasonic, Xolo, and chipmaker Qualcomm. (Samsung, an important name in the Android world globally, is notably absent from the list.) The program will expand to Indonesia, the Philippines, and South Asia — including Bangladesh, Nepal, Pakistan, and Sri Lanka) by the end of the year, and roll out to even more countries in 2015.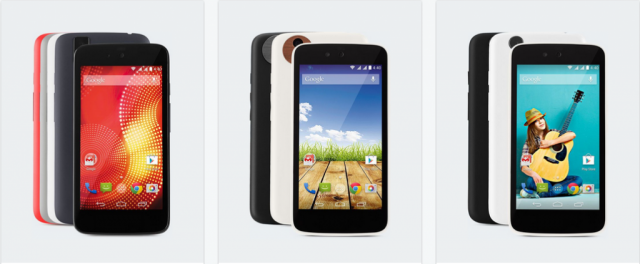 Pichai noted in his post on the Google blog:
"If we look at how people are getting online and accessing information today, increasingly it's through a smartphone. While 1.75 billion people around the world already have a smartphone, the vast majority of the world's population—over five billion more—do not. That means most people are only able to make simple voice calls, rather than connect with family through a live video chat, use mapping apps to find the closest hospital, or simply search the web. We want to bring these experiences to more people."
Pichai cites three reasons why it's hard for people in developing countries — he cites India, Indonesia, and the Philippines as examples — to "get their hands on" a high-quality smartphone. The prohibitive cost of even entry-level hardware, lack of access to the latest Android version and popular apps, and the high expense of data plans, even where 3G and 4G networks are available, are all factors. Android One shares reference designs and even some components to make it easier for partnering manufacturers to build phones that offer a great user experience at an affordable price.
What will consumers get for $100?
The first Android One phones — the Karbonn Sparkle V, the Micromax Canvas A1, and the Spice Dream UNO — all feature a 4.5-inch display, 1 GB of RAM, 4 GB of storage, a 5 megapixel rear camera and a 2 megapixel front camera, a quad core processor, a micro SD card slot, an "all-day" 1,700 mAh battery, and dual SIM card slots.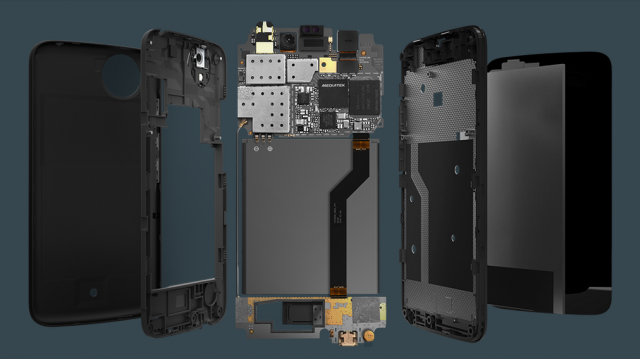 All Android One devices will receive updates to the latest version of Android directly from Google, so that users will have access to important security patches and the latest features. Android One devices ship with the latest version of Google Apps, including Gmail, Calendar, YouTube, Maps, Google Now, Google Search and Hangouts, and more than a million apps are available in the Google Play Store. Pichai notes that Android One devices will be "some of the first" to be updated to the Android L release later this year, and customers of Indian carrier Airtel will be able to upgrade to the latest version of Android without using any data for the first six months, and download up to 200MB worth of apps each month.
Hardware partners will be able to differentiate their devices and create customized experiences without changing the core software. Pichai wrote on Google's blog: "Access for access's sake is not enough. With Android One, we not only want to help people get online, we want to make sure that when they get there, they can tap into the wealth of information and knowledge the web holds for everyone."
The New York Times notes that the phones are not the cheapest on the Indian market, and local device maker Intex introduced a $35 smartphone that runs an operating system from Mozilla's Firefox, and manufacturers in India releasing an increasing number of phones under $200. India is the world's third-largest smartphone market, behind China and the United States, and the country's smartphone market is expected to double by 2018, and 71 percent of Indian mobile phone users still have feature phones. However, more than eighty device manufacturers are competing for market share in India, and even a $100 phone is considered a significant expense in areas with low average incomes.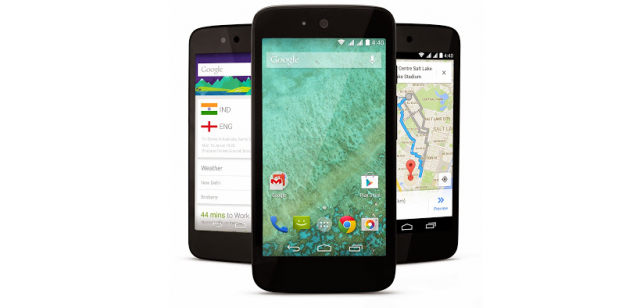 The Android One initiative gives Google better control of the Android operating system — and exactly what version of it gets loaded on new smartphones, plus when they're updated — as it grows globally. A major problem for Android is fragmentation, the result of Android's nature as an open platform. Because manufacturers have been able to create their own modifications of Android, consumers with low-tech devices have been stuck with outdated versions of the operating system, and couldn't access updates or new apps.
Alternately, many Android users with limited data access opt to turn off auto-update features, and choose to use old versions of software instead of using up their data plans to update. Keeping more Android users on the newest version of the operating system will make Google's own apps and services run better, and enable the company to better monetize the advertising it places on those platforms.
In June, Pichai reported that Android has 1 billion active users and 80 percent of the global market. Also in June, Pichai said that Google's goal with Android one was to get "the next billion" users, and in Monday's blog post he upped that goal to the next five billion, expected to come from emerging markets around the world. As Re/Code notes, Google is also shifting the focus away from large, global brands by partnering with regional chipmakers and phone manufacturers, which could spell trouble not only for big brands like Qualcomm, Samsung, and Motorola, but also potentially for lower-cost brands like ZTE and Huawei.
And despite Google's focus on first-time phone buyers and consumers looking to upgrade from a feature phone in emerging markets, there are quite a few consumers in North America that could benefit from the changes that the initiative could catalyze in the industry. While the specifications of the first Android One phones aren't robust enough to impress many in North America, and Pichai told the BBC that there are no plans in place to launch the initiative in the west, he also "did not rule it out."
The Pew Research Internet Project reported that as of January, while 90 percent of American adults had a mobile phone, a significantly smaller 58 percent had a smartphone. Smartphone ownership rates were higher among younger age groups and among those with higher household incomes. 63 percent of adult cell owners use their phone to access the internet, and 34 percent of cell internet users go online mostly using their phones, not using another device like a desktop or laptop computer. And in North America, Chitika's analysis of the fragmentation of the Android market showed that web traffic generated by Android devices was divided among a wide range of Android versions.
Better options for budget smartphones, even if they aren't offered in North America right away, are undoubtedly a good thing for consumers around the world. And Google's Android One initiative could put pressure on the rest of the industry to up the quality of the user experience on their less-expensive smartphones to make a great mobile experience available to any consumer, whether he or she can spend hundreds of dollars on a smartphone or not.
More from Tech Cheat Sheet:
Want more great content like this? Sign up here to receive the best of Cheat Sheet delivered daily. No spam; just tailored content straight to your inbox.