Angle Your Phaser to Adjust Volume: Gesture Control Technology Meets 'Star Trek'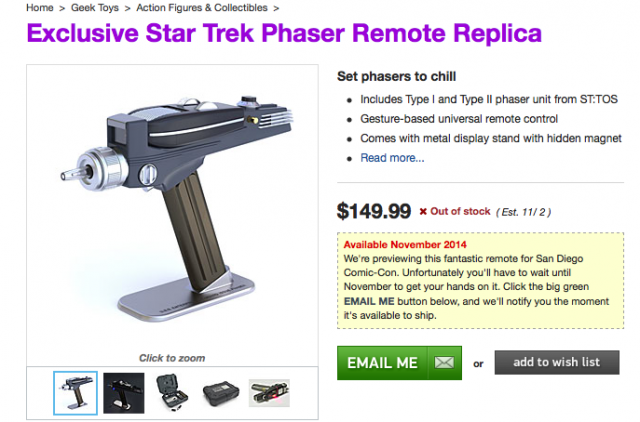 Set your phasers to remote control mode. ThinkGeek, the geek-centric retail website that sells merchandise to fans of Star Trek, Star Wars, and other popular fandoms that can be found at comic conventions, is selling a universal remote in the shape of a phaser, a type of gun featured in the Star Trek franchise. The device is meant largely for televisions, stereos, and docking stations — the standard targets of a universal remote. But it's more than just a universal remote cased in a phaser shaped packaging — it has a pretty high tech feature.
What makes this device unique is that it works with a mix of inputs and gesture control. It takes a combination of buttons and angling the device to get the phaser remote to lower volume, turn on a device, or change channels, reported TechCrunch. In some ways, the technology is similar to Nod's Bluetooth Rings, which also use gesture control.
The product is set to debut at the upcoming San Diego Comic Con, one of the largest and most high profile comic conventions in the United States, before officially going on sale in the fall — just in time for the holiday sales season. While the target market here is clearly of the Trekker variety, the device is merely the latest in a string of gesture-controlled devices hitting the market.
Controlling technology through gestures and movement is a technological development that's showing up in a wide variety of upcoming products. A limited version already exists in smartphones and tablets when a user moves a finger across the screen to zoom in or to bring up a menu. It also exists in gaming consoles such as Nintendo Wii accessories, Xbox's Kinect, and PlayStation Move.
Some versions of this technology do it without actually touching the device in question. The upcoming Amazon (NASDAQ:AMZN) smartphone was rumored to have a gesture control feature in addition to the usual touchscreen. BMW is even working incorporating this technology into future vehicles. This trend is a wave of gesture-controlled products hitting the market.
Like all early waves of technology, some glitches exist. Google (NASDAQ:GOOG) (NASDAQ:GOOGL)-owned Nest recalled its gesture-controlled smoke alarm after the company realized that the gesture to silence feature may make the smoke alarm unsafe if a user deactivated it unintentionally. Xbox has a troubleshooting page for common glitches for the motion and gesture-controlled Kinect accessory. Companies are responding to these glitches with new versions and customer support.
So while a gesture controlled universal remote targeted to Star Trek fans is a product that appeals to a specific niche of customers, it's a step forward for gesture control technology. Premiering the device at a big event like San Diego Comic Con is merely a way to make sure the product is advertised to that niche audience.
More From Wall St. Cheat Sheet: