Another Carrier Jumps on the Apple Bandwagon
Did U.S. Cellular (NYSE:USM) just announce that it will soon be carrying the iPhone? Well, it depends how you interpret U.S. Cellular's rather vague announcement.
Via its first-quarter earnings release, the wireless telecommunications company stated, "We have a number of strategies in progress to increase loyalty and attract more customers, including our announcement today that we will begin offering Apple (NASDAQ:AAPL) products later this year. By further strengthening our device portfolio, we'll give consumers another great reason to switch to U.S. Cellular, and enable our existing customers to choose from an even wider variety of iconic smartphones, and enjoy the outstanding U.S. Cellular customer experiences they deserve."
Since U.S. Cellular is the sixth-largest carrier in the U.S., one could probably safely assume that these "Apple products" will include the iPhone. However, it may also include Apple's iPad and iPad mini.
Since U.S. Cellular also gave a vague timetable of "later this year" for carrying Apple devices, one could also assume that the carrier may be waiting for the debut of the iPhone 5S, or even the long-rumored release of a low-cost iPhone. U.S. Cellular is also currently in the process of establishing a 4G LTE network that would mesh nicely with the current iPhone's 4G LTE capabilities.
Besides its recently announced expansion into Apple products, U.S. Cellular also offers HTC's flagship HTC One device, as well as Samsung's (SSNLF.PK) Galaxy S3. This move to U.S. Cellular is the latest in Apple's recent trend of allowing its devices to be sold through smaller carrier companies.
Here's how Apple and U.S. Cellular have traded so far this week.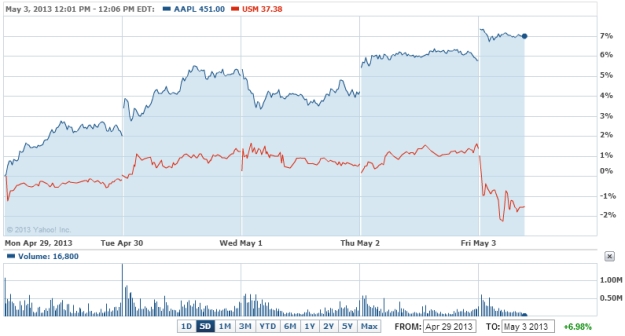 Don't Miss: How Much Is a Piece of Apple's History Worth?