Another Dime From Michael Dell May Not Be Enough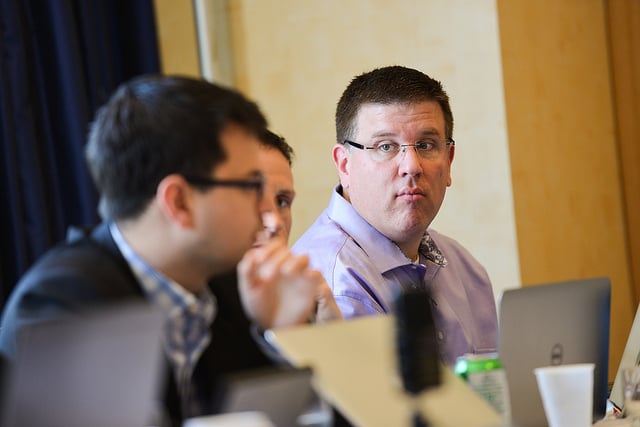 Once again, shareholders converged on Dell's (NASDAQ:DELL) headquarters in the outskirts of Austin to determine the personal computer maker's fate — and once again, the vote on the $24.4 billion go-private proposal submitted by founder Michael Dell and financial backer Silver Lake was adjourned until August 2.
With fears growing that shareholders may not find the buyout price of $13.65 attractive, something that prompted the delay of the first shareholder vote scheduled for July 18, Dell and private equity firm Silver Lake sweetened their offer ever so slightly Wednesday.
A letter addressed to members of the Special Committee of Dell's board of directors, who are charged with overseeing the transaction, and submitted to the Securities and Exchange Commission on Wednesday proposed amending the agreement. Dell and Silver Lake increased their bid by 10 cents to $13.75 per share, which brings the total value of the deal to $24.6 billion.
However, the new offer came with a stipulation: easier voting rules. The special committee must agree to amend the "Unaffiliated Stockholder Approval" requirement in the initial agreement so that the deal can be approved by a majority of votes cast by unaffiliated shareholders, which would give the buyout group an advantage amid the growing opposition led by shareholder Carl Icahn. Previously, a shareholder that abstained was counted as a vote against the deal.
"This is our best and final proposal," the letter reads. "There is simply no rational basis for shares that are not voted to count as votes against the merger agreement for purposes of the unaffiliated stockholder vote. If a majority of the shares held by unaffiliated stockholders who vote are voted in favor of the merger agreement, it would be unfair to deny these stockholders the merger consideration they wish to accept solely because shares not voting are counted as votes against the transaction."
Last week, the vote was called off within minutes after an initial tally of votes found that the buyout offer had failed to receive the necessary votes, making it clear that a significant number of shareholders, many of whom stand to lose a great deal if the buyout offer is approved, did not want to sell their shares at that offer price. The warning that the company gave shareholders before the vote — that they should " take $13.65 per share in cash or bear the risks of continuing to hold their Dell shares" — seemed not to have any resonance.
Icahn of Icahn Enterprises (NASDAQ:IEP) owns 8.7 percent of the company's shares, the second-largest stake after Mr. Dell's approximately 16 percent holding. He and fellow shareholder Southeastern Asset Management proposed a tender offer for 72 percent of the company's shares at $14 apiece, and shareholders were promised one warrant for every four of their shares.
The warrant would give shareholders the right to buy one Dell share for $20 over the next seven years, but Dell's shares have not traded above $20 since September 2008. Icahn's plan would leave a portion of the company public and keep Dell largely a PC company. Comparatively, as a precursor to his plan to transition the company's core business to enterprise services, Mr. Dell proposed early this year to take the PC maker completely private, leaving shareholders out of the turnaround story, Icahn has argued.
Several shareholders besides Icahn have argued that Mr. Dell's offer significantly undervalued the world's third-largest personal computer manufacturer. Some analysts have already postulated that his sweetened offer will do little to sway shareholders. "A dime won't even get you a phone call," Argus Research analyst Jim Kelleher told Bloomberg regarding the 10-cent increase. "There is a risk that the institutional investors, who were on the fence at $13.65, will not be neutral but insulted by $13.75 and will swing to team Icahn." The new go-private price represents a 26-cent premium from Dell's closing price of $10.88 on January 11, the last day of trading before Mr.Dell's offer was made public.
In the days since the postponed July 18 vote, Mr. Dell, his advisers, and proxy solicitors have upped their campaigning efforts, speaking to shareholders big and small in hopes of garnering more support, Reuters reported. Still, despite the six-months of tug-of-war between Mr. Dell and Icahn, many investors are still on the fence.
On the one hand, shareholders are worried that the stock will tank if the deal is voted down, and it will be tough to find another buyer given the company's deteriorating prospects. Dell did report a 79 percent decrease in profit in its last quarterly report, and the board has said growth in fiscal 2014 will be sluggish, with demand for personal computers growing ever weaker.
It is "the best of all evils," one shareholder told Reuters, referring to Mr. Dell's offer. But if the deal is approved, those shareholders that have held their stakes for two years or longer stand to lose a great deal.
Follow Meghan on Twitter @MFoley_WSCS
Don't Miss: Apple's Massive Cash Hoard Hits New Record.