Another One Bites the Dust: Comcast Buys Time Warner, Extends Cable Domination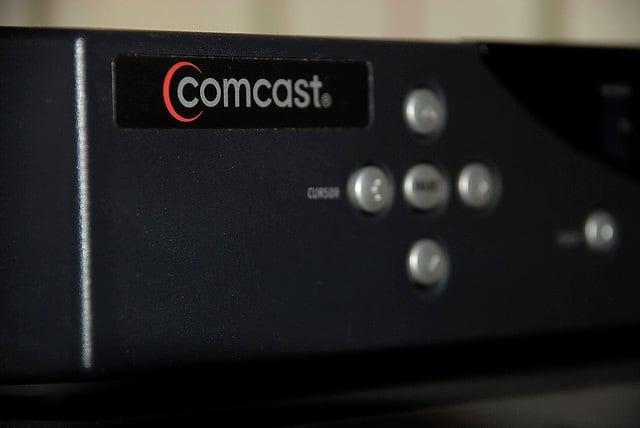 It's finally happened. Comcast (NASDAQ:CMCSA), the largest cable company in the United States, announced that it is purchasing rival Time Warner Cable (NYSE:TWC), meaning that basically anyone in the country with cable service will now be writing their monthly checks to Comcast. Comcast purchased Time Warner in an all-stock deal amounting to $45.2 billion.
Charter Communications (NASDAQ:CHTR) was in talks about buying Time Warner for months and had even approached Comcast about the possibility of a joint deal, in which Charter and Comcast would split up Time Warner's markets. Apparently Comcast has decided to cut out the middleman and buy Time Warner as a whole itself. According to people familiar with the matter who spoke to Bloomberg, talks between Charter and Comcast broke down when Charter wasn't willing to give Comcast as many of Time Warner's markets as it wanted.
Charter previously made an offer of $132.50 per share, but Time Warner said that was "grossly inadequate" and insisted the company wouldn't accept any bid under $160 per share. The Comcast deal amounts to $158.82 per share. Earlier this week, Charter issued a statement calling for Time Warner to entirely replace its board of directors to put more pressure on the company to re-evaluate a Charter acquisition. Now it looks like Time Warner made the right choice in rejecting Charter's bid.
"Charter has always maintained that our greatest opportunity to create value for our shareholders is by executing our current business plan, and that we will continue to be disciplined in this and any other M&A activity we pursue," the company said in a statement shared with Bloomberg. Charter now has to go back to the drawing board in terms of where it can find ways to grow after focusing so much time and energy on an attempt to acquire Time Warner.
So what does this mean for consumers? Comcast and Time Warner are trying to make it seem like their customers will benefit. "The new cable company, which will be led by President and CEO Neil Smit, will generate multiple pro-consumer and pro-competitive benefits, including an accelerated deployment of existing and new innovative products and services for millions of customers," Comcast said in its announcement.
Other sources aren't so sure this will be a positive for consumers. While Charter head and famed cable investor John Malone has advocated for consolidation in the cable industry, as combining could help companies lower prices and better compete with online streaming services, other evidence suggests that consumers won't benefit from the consolidation. Comcast's domination will mean that the company can raise prices, which will be forced on consumers with no other options in terms of cable television service. Harvard Law professor Susan Crawford wrote in an article for Bloomberg that customers "will probably see prices rise, with no corresponding improvement in service."
One might wonder how such a deal got approved at all. The Comcast purchase of Time Warner was allowed to pass without regulators batting an eye because technically, cable companies don't compete with each other, as markets in the U.S. are divided so that any one consumer living in a certain place usually has just one option in terms of cable service. The combination means that now the vast majority of markets across the country will be served by Comcast.
So if cable customers are likely to see prices rise with no improvement in service and given the fact that surveys from the American Customer Service Index have repeatedly ranked both Time Warner and Comcast dead last in terms of customer satisfaction, who stands to benefit besides what is now effectively America's only cable company? Well, where can you get access to television for much cheaper than traditional pay-TV if you're willing to give up live programming? Netflix (NASDAQ:NFLX).
Cable and satellite are already hurting from a growing movement of consumers who choose to ditch pay-TV in exchange for online streaming services. If cable becomes even more expensive, service doesn't improve, and dealing with the companies is still a pain in the neck, you can bet that more people will cut the cord and start getting their television fix from Netflix. While this deal may be a benefit for Comcast in the short term, it may also be one more nail in the coffin of the dying pay-TV industry.
More from Wall St. Cheat Sheet:
Follow Jacqueline on Twitter @Jacqui_WSCS