Another Small Tablet Maker Tries to Usurp Apple's iPad Mini Throne
Did Acer just make an Android version of the Apple (NASDAQ:AAPL) iPad mini? Tablet makers have been trying to take Apple's crown in the tablet market ever since the California tech company released the original iPad in 2010.
However, according to IDC statistics, Apple still holds the lion's share of the global tablet market with a 39.6 percent market share and 19.5 million units shipped in the first quarter of 2013. This is more than double the market share of Samsung (SSNLF.PK), Apple's nearest competitor, which had a 17.9 percent share of the tablet market and 8.8 million units shipped in 1Q13.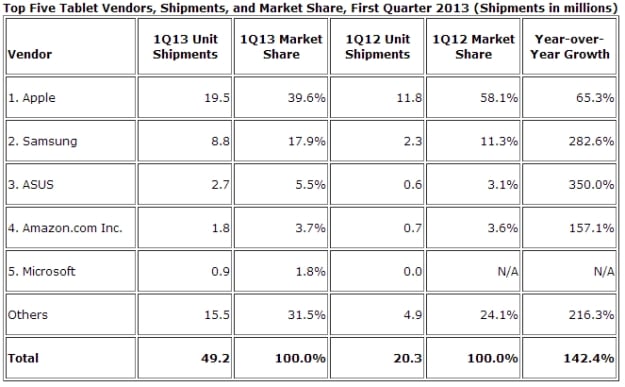 Acer — which does not even rank as one of the top five tablet vendors — is now taking a stab at the small tablet niche market. Acer has announced the upcoming release of 7.9 inch tablet called the Iconia A1. This Android-powered device features an IPS display panel and a 1.2 GHz quad-core processor.
Acer specializes in inexpensive electronics and with a reported retail price of $169, the new Acer tablet seems to be aimed at directly undercutting the Nexus 7. The $199 Nexus 7 is a 7-inch display tablet developed by Asus – a Taiwan-based hardware manufacturer — and Google (NASDAQ:GOOG).
However, the Iconia A1's 7.9 inch screen and lightweight construction is more reminiscent of Apple's iPad mini than the Nexus 7. Is Acer trying to give consumers an Android-powered iPad mini doppelganger or is this just another case of imitation being the sincerest form of flattery? The Acer Iconia A1 will be available in stores by June 2013.
Don't Miss: Investors Might Not Agree, But Barron's Thinks Apple Is Stellar.