Apple Analysts: Why Such Low Expectations?
The moment when Apple (NASDAQ:AAPL) will show the world the state of its business — 2 p.m. Pacific Time — is just around the corner, and the predominant sentiment expressed in the company's earnings coverage is very bearish. Forbes wrote that there are not many likely positive scenarios "that can be laid out with any degree of confidence ahead of earnings," while TechCrunch reported that "conventional wisdom has it that Apple has reached its peak and can only disappoint from now on." Apple enthusiasts are famous for making mountains out of molehills, as are analysts, but the market has been awash with negative growth indicators in recent weeks.
Not only have analysts predicted that the company will post an earnings decline for the first time in a decade, but some even believe Apple will lower its outlook for this quarter due to slowing growth in sales of iPhones and iPads, which have been held back by stronger competition and a market eager for innovation. While many investors and analysts are still hoping that the cash-rich company will announce an increase in its dividend or a stock buyback program, these measures will most likely not send its stock back up to previous heights.
There is only one thing Apple can do to change investor sentiment, noted The Los Angeles Times: explain the company's future plans. But that is one question Apple never answers. "It's the future of the products that we care most about," ISI Group's Brian Marshall told the publication. "And we're not going to get those answers tomorrow."…
More importantly, there has been no spring event held to announce new products — like the much-rumored, never-confirmed smartwatch and Apple TV — or refreshes of the iPhone and iPad, contrary to what the rumor mill predicted. The iWatch, Apple TV, iRadio, and even the low-cost iPhone have taken over much of the discussion regarding Apple's future in recent weeks, but it still remains to be seen whether such products are released or whether they can lay to rest concerns that Apple's golden age of innovation has ended. "The longer-term issue is whether Apple has another hit," Morningstar Research analyst Brian Colello told the Times.
Almost exactly one month ago, shares of Apple zoomed up and closed above their 50-day simple moving average for the first time since October 4. After making that technical breakthrough, many analysts had hoped that Apple's movement on the stock chart proved shares had finally reached bottom after their six-month decline, which began after the stock hit its all-time intraday high of $705.07 on September 21. But with growing concerns about the company's innovative abilities, reinforced by the lack of new products, shares have kept etching out a downward course. In fact, following a weaker-than-expected forecast by Cirrus Logic (NASDAQ:CRUS), which is widely believed to make analog and audio chips for the iPhone and iPad, shares dipped below the psychologically important $400-dollar-per-share mark last Wednesday…
With such a drastic drop in stock price, Apple has lost close to $300 billion in market value in recent months. This collapse has even launched rumors that the company was looking to replace Chief Executive Officer Tim Cook. While many analysts have indicated that the rumors are just talk, as the Times noted, the "fact it's even happening is a sign of just how much Apple's fortunes have shifted from a year ago when its stock was on an extraordinary run that would make it one of the most valuable companies in history."
The consensus analyst estimate is that Apple will report $10.12 earnings per share with revenue of $42.6 billion. Looking at profit, the expected result will represent a marked drop from the $12.30 per share Apple reported in the year-ago quarter and the first time profits have declined year over year since 2003. But to be fair, Apple faces a tough comparison; in the same quarter last year, the company's results soared above expectations due to excellent iPhone and iPad sales.
Even more concerning is the fact that Apple will likely lower its guidance for the June quarter, which analysts have set at a profit of $8.63 billion and sales of $39 billion. "We continue to feel that March Street expectations still appear too high and that Apple is likely to guide June down," wrote Piper Jaffray analyst Gene Munster in a note to clients Monday, seen by the Times. "We believe this is well accepted among investors, but believe with the dynamic of numbers coming down, it is difficult to predict what the stock will do in immediate reaction of the quarter and guide."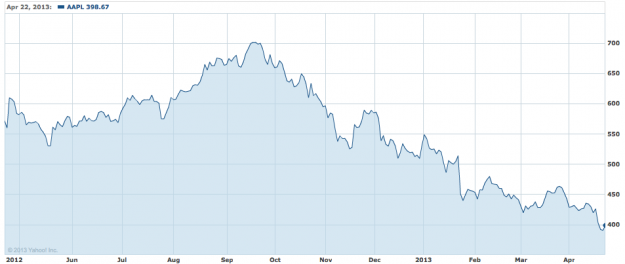 Don't Miss: Who's Calling For a New Apple CEO, and Why?