Apple Bonds Don't Swing Like Stock
Last week Apple (NASDAQ:AAPL) started a bond-buying frenzy when it unveiled an unprecedented $17 billion bond sale. Although this is only a fraction of the total debt that the Cupertino-based company will likely issue to help fund its $100 billion shareholder capital return plan, demand still far outstripped supply.
According to Deutsche Bank via The Wall Street Journal, there was $52 billion worth of orders for the deal soon after it was announced. This made it one of the most desirable bonds ever sold on Wall Street.
However, now that the dust has settled and a week has passed since the initial sale excitement, investors can clearly see what they have bought — essentially a regular, stable bond. Apple bonds were issued at the peak of the corporate bond-buying market when yields were already at major lows, so a big jump in capital gains is not very likely at this point. On the other hand, bonds have the advantage of being generally less prone to large price swings.
Rather than being subjected to wild price changes based on the latest corporate rumors, Apple bonds will be influenced more by the market's overall interest rates and the Treasury bond market in particular.
According to data from bond trading platform MarketAxess (NASDAQ:MKTX) via Barron's, Apple's bonds have settled fairly close to where they were when they were initially issued last week. Apple's 3-year notes sold last week at 99.819 cents on the dollar to yield 0.511 percent at a spread of 20 bps, or basis point, over Treasury bonds.  Today Apple's 3-year bonds are at 99.908 to yield 0.481 percent at a spread of 14 bps.
Apple's 5-year debt initially sold at 99.631 cents on the dollar to yield 1.076 percent at a spread of 40 bps. Today they're at a 35 bps spread at 99.55 on the dollar and yielding 1.093 percent.
Apple's 10-year bonds debuted at 99.867 to yield 2.415 percent at 75 bps over. Currently they're at 100 cents yielding 2.4 percent at 74 bps over.
Finally, Apple's 30-year notes initially sold at 99.418 cents on the dollar to yield 3.883 percent at a 100 bps spread. Today, these bonds are at 97.992 cents and are yielding 3.965 percent at 95 bps.
Here's how Apple stock has traded so far this week.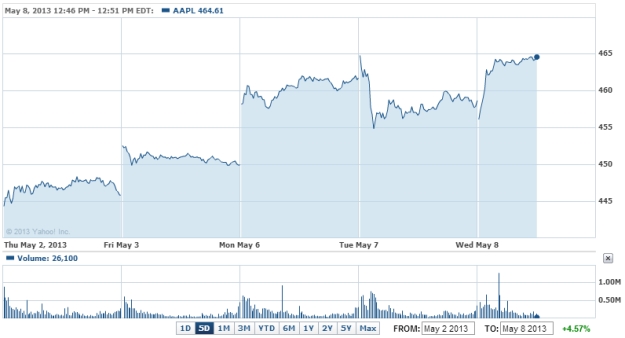 Don't Miss: Is David Einhorn Head-Over-Heels for Apple Again?