Apple Cuts a Major Rival Out of the Loop
In a move designed to further diversify its supply chain away from Samsung (SSNLF.PK), Apple (NASDAQ:AAPL) will be sourcing more of its iPad Mini displays from other manufacturers such as Innolux, according to a Taipei Times report via Apple Insider. Although Apple has been fighting several well-publicized court battles over patent infringement against its smartphone rival, it still derives many of its product components from the Korea-based company.
However, as the competition between these smartphone rivals has heated up, Apple has been shifting more and more of its supply chain away from Samsung in order to avoid giving its rival direct profits from manufacturing, as well as any knowledge of Apple's proprietary technology.
According to Apple Insider, the Taiwanese paper quotes NPD DisplaySearch Greater China region vice president David Hsieh stating that, "Innolux and China's Century Display will receive certificates for product qualification [from Apple] to supply [touch panels] for the iPad mini."
Innolux has already been manufacturing components for Apple's larger iPad displays for the last five years. Innolux produces screens with "touch-on-display" technology, which would provide Apple with an alternative to its problematic "in-cell" technology that is currently used in the iPhone 5.
Samsung may even be cut completely out of the supply chain for Apple's iPad and iPad Mini in 2013, according to a report from the DigiTimes. The DigiTimes quotes a "Korea-based media report" that states that Samsung has yet to receive a "request for quotation" from Apple, which is the precursor to any component manufacturing.
Based on this report, the DigiTimes concludes that Samsung will most likely no longer be used for manufacturing panels for Apple. Instead, Apple will rely solely on "LG Display, Sharp, Japan Display and AU Optronics (NYSE:AUO)" for its iPad and iPad Mini display panels.
Apple closed down 2.08 percent at $442.66 on Thursday. The chart below shows how Apple traded throughout the week.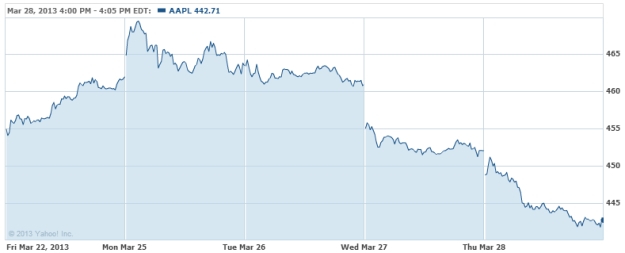 Don't Miss: Analyst: Apple Will Hit $274 In Six Months.