Apple Discusses Streaming-Television Service Partnership With Comcast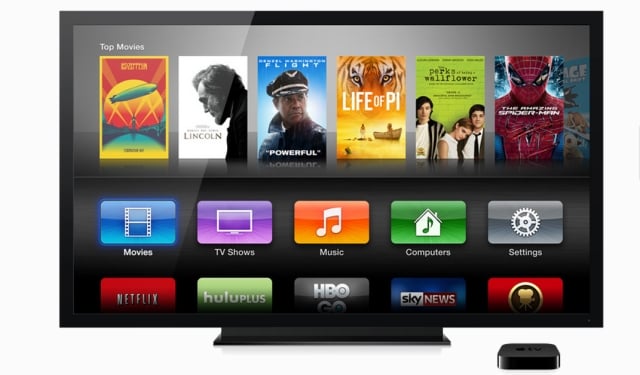 Apple's (NASDAQ:AAPL) long-rumored successor to the current Apple TV product may finally be coming to fruition. According to "people familiar with the matter" cited by the Wall Street Journal, Apple is in talks with Comcast (NASDAQ:CMCSA) over the possibility of creating a streaming-television service that would bypass congestion caused by public Internet traffic.
The proposed service would offer users an on-demand television experience featuring live shows and full seasons of currently running programs. Apple would deliver the service through a revamped Apple TV product that would stream the video content from cloud storage.
Apple wants its proposed streaming-television service to be classified as a "managed service," according to the Wall Street Journal's sources. This would allow Apple to guarantee the quality of its video stream, since Comcast would transmit the service separately on a less-congested part of the network. Broadband providers won the right to treat managed services this way when a federal appeals court struck down key segments of the Federal Communications Commission's Open Internet rules. This arrangement would presumably keep Comcast from violating the special "net neutrality" rules that were imposed on the company after it merged with NBC Universal in 2011. Netflix (NASDAQ:NFLX) CEO Reed Hastings recently criticized Comcast and other ISPs for their alleged anti-net neutrality behavior in a recent blog post after the company was forced to pay for a higher interconnection fee for its video-streaming service.
According to one of the Wall Street Journal's unnamed sources, Apple and Comcast are still in the early phase of the talks and there are several obstacles that must still be overcome. Before the service could be worthwhile, Apple would need to acquire more television programming rights from content providers. Although Apple TV currently offers content from popular video-streaming services such as Netflix, Hulu, and YouTube, it still has few live programming options.
Comcast may also be reluctant to invest in the new infrastructure that would be required in order to manage Apple's video-streaming service. The two companies may also disagree on the amount of control each company will have over the customers of the proposed service. According to the Wall Street Journal's sources, Apple wants its customers to be able to sign into the service using their Apple IDs. Apple is also seeking a portion of the customers' monthly subscription fees.
As previously reported by the Wall Street Journal, Apple began talks with Time Warner Cable (NYSE:TWC), Comcast, and DirecTV (NASDAQ:DTV) over a similar service in 2012. However, the negotiations were put on hold when Comcast announced that it was acquiring Time Warner Cable for approximately $45.2 billion in equity value. As noted by the Wall Street Journal, regulators are still in the process of reviewing that merger.
Industry watchers have been on the lookout for a game-changing Apple television product ever since former CEO Steve Jobs discussed the possibility of an Apple television with his biographer. "I'd like to create an integrated television set that is completely easy to use. It would be seamlessly synced with all of your devices and with iCloud," Jobs told Walter Isaacson according to the Washington Post. It remains to be seen if Apple's negotiations with Comcast will finally bring Jobs's vision to life.
Follow Nathanael on Twitter (@ArnoldEtan_WSCS)        
More From Wall St. Cheat Sheet: