Apple Dominates Worldwide Computer Market Despite iPad Drop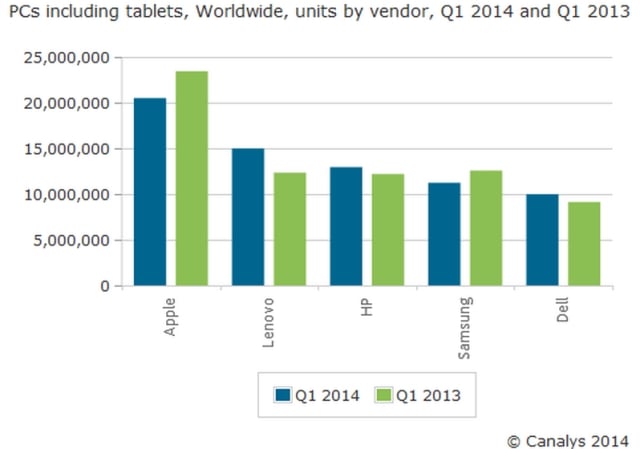 Apple (NASDAQ:AAPL) continued to dominate the global PC market in the first-quarter of calendar 2014 despite a sharp drop in iPad shipments, according to the latest data from market research firm Canalys. It should be noted that, unlike most other market research firms, Canalys includes desktops, notebooks, and tablets in its worldwide PC market calculations.
Based on Canalys' methodology, Apple was the largest PC vendor in the world during the March quarter, with over 20 million units shipped for a 17 percent share of the market. Chinese PC maker Lenovo ranked second with 15 million units shipped for a 12 percent share, while HP (NYSE:HPQ) took third place with 12.9 million units shipped for an 11 percent share. Meanwhile, Samsung (SSNLF.PK) slipped to fourth place and Dell saw slight year-over-year gains to take fifth place with 10 million units shipped.
Apple's share of the PC market declined from the 20 percent share it held in the year-ago quarter, primarily due to a drop in iPad shipments. According to Canalys, Apple's worldwide iPad shipments declined 16 percent year-over-year to 16.4 million units. The decline in the U.S. market was even more severe, where iPad shipments fell by 40 percent. Apple's overall PC market performance is largely determined by its iPad sales. According to Canalys, the iPad accounted for approximately 80 percent of Apple's total PC shipments last quarter.
However, the decline in North America was offset by significant growth in several other regions, including "the Middle East (100 percent), Greater China (74 percent), and Central and Eastern Europe (47 percent.)" In China — Apple's second biggest market — iPad shipments increased by 20 percent last quarter.  
"The fall in iPad shipments in Q1 was the sharpest ever," said Canalys senior analyst Tim Coulling. "Apple took action during the quarter to run down its iPad inventory, a smart move as tablet stock in the channel rose due to strong seasonal shipments in the previous quarter." Apple CEO Tim Cook noted the iPad inventory adjustments during the company's last quarterly earnings call. "[I]n the March quarter last year, we significantly increased iPad channel inventory, while this year we significantly reduced it," stated Cook according to an earnings call transcript provided by Seeking Alpha.
Despite the recent decline in iPad shipments, Canalys doesn't believe that the drop is a symptom of a faltering tablet market. "Longer term, we do not believe Apple's Q1 performance points to a decline in the tablet category, despite growing pressure from larger-screen smart phones," noted Coulling. "Consumers, and increasingly businesses, are continuing to adapt, with tablets acting as disruptors and finding their place as desktop and notebook replacements. Apple's ecosystem and the recent launch of Office for iPad should ensure it is well placed to remain a leader for some time."
Microsoft (NASDAQ:MSFT) released its Office suite of software for the iPad in late March and the Office for iPad apps soon shot to the top of the free iPad apps chart. The success of the tablet-optimized software suggests that iPads are increasingly encroaching on territory that used to be exclusively held by traditional PCs such as desktops and laptops.
Overall, Canalys estimated that worldwide PC shipments reached 123.7 million units in the March quarter, a 5 percent increase over the same period last year. It should be noted that this number is close to the total reached when IDC's worldwide PC shipment numbers (73.4 million) are combined with its worldwide tablet shipment numbers (50.4 million.) However, while IDC ranked Apple as the No. 1 tablet vendor with a 32.5 percent share of the worldwide market, the Cupertino-based company didn't even rank in the market research firm's list of top-five global PC vendors.  In contrast to Canalys, IDC's PC category includes "Desktops, Portables, Ultraslim Notebooks, [and] Workstations," but not tablets.
Follow Nathanael on Twitter (@ArnoldEtan_WSCS)
More From Wall St. Cheat Sheet: