Apple Enhances Health iOS 8 App With New Native Functions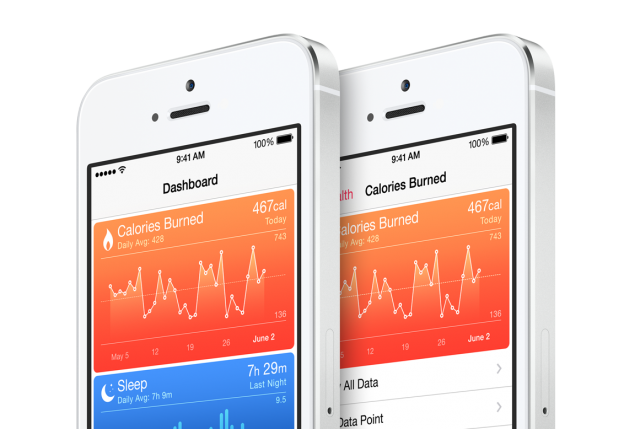 After announcing the Health iOS 8 app with the HealthKit framework developer kit at its Worldwide Developers Conference, Apple (NASDAQ:AAPL) has already begun adding new capabilities to make the app a more comprehensive starting point for users interested in health and fitness tracking.
TechCrunch reports that a new iOS 8 beta includes added native features for Health. When Health was announced, it relied solely on third-party apps and devices to collect data. But that's changed, and it can now track steps and calories without another provider, making the app useful and usable right out of the box, without other apps and devices set up.
9to5Mac reports that the Health app for iOS 8 can now source data from the iPhone's M7 motion tracking hardware, so that the Steps counter tab in the Health app can report steps without the use of another device or app. The M7 can pre-populate the app with a week's worth of data, and steps data can be shared with other apps.
9to5Mac's Mark Gurman says that the feature seemed to track steps accurately in initial tests. He points out that the move to add on-device tracking support to the Health app is a smart way to get users to begin using the software. They won't need to download other apps or purchase outside devices to get started with step-tracking, one of the most popular categories of fitness data. As Gurman writes, "the ability for the iPhone to provide that data out of the box is a great way to teach people about the Health fitness tracking software."
Apple also added caffeine to the categories of nutritional information that the Health app can track. With the added capability, users will manually input how much caffeine they've consumed, and Health will share the data with the apps that users have set up. The addition will likely see developers who already have apps to track caffeine intake — apps like Jawbone's Up Coffee — moving to integrate their apps with the Health database.
TechCrunch's Darrell Etherington projects that the addition of new capabilities to Health sets the precedent for the way Apple will manage the hub in the future: "The new features are significant because they reveal the likely trajectory for Health in general: Apple observing the field and building in more native health and fitness tracking functionality into its own app, while allowing third-party providers to shore up the gaps."
It's a good idea to get users to begin using the Health app with easily accessible, native functions. Essentially, Apple is providing a low barrier to entry for users who are interested in Heatlh's tracking abilities, but perhaps don't want to commit the time and effort to investigating the array of third-party apps, services, and devices that will be compatible with the hub. Instead, they'll turn to the native functions that Apple puts into place in order to adopt the habits that will eventually lead them to third-party apps and hardware. 
It's also likely that Health will launch with more native functions, which will roll out slowly with the next few iOS 8 beta iterations, so that it will feel like a fully-functional platform for those who start with it exclusively. Once Apple has Health's features in place, it will then likely look to foster more third-party integrations with Health and HealthKit.
The company will aim to position Health as the user's dashboard for all of the health and fitness data that he or she collects, and it will integrate with other apps and devices to collect information on heart rate, nutrition, sleep quality, and other data categories. iOS 8 is currently available only to developers, and is expected to be made available to general consumers in the fall.
More From Wall St. Cheat Sheet: