Apple Faces Fresh Samsung Challenge 2 Other Tech Titans Making Noise
BlackBerry (NASDAQ:BBRY): Current price $15.08
According to a report by the New York Post, BlackBerry has reached a two-season marketing arrangement with the Barclays Center in Brooklyn. An industry source in the article said that the deal is worth between $1 million and $5 million. The Barclays Center is home to the Brooklyn Nets. BlackBerry, which late in March debuted its new Z10 touchscreen smartphone in the United States, will get prominent ad placement and an "experiential" area in which customers can examine the smartphone maker's devices, according to the Nets Vice President Mike Zavodsky to the Post.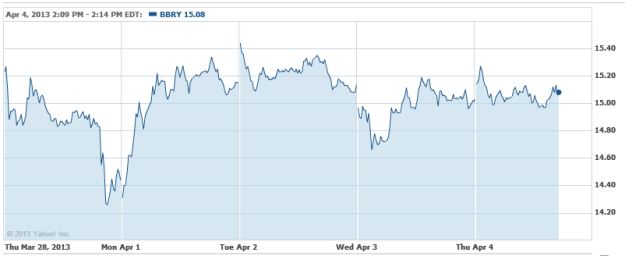 Google (NASDAQ:GOOG): Current price $794.15
The company has filed a rare petition through which to challenge an ultra-secret national security letter by the government, to obtain private data about one or more of its users, according to Wired. The unusual petition was filed under seal in the United States District Court of Northern California on March 29, only days after a federal District Judge in California decided that so-called NSLs that come with a gag order on the recipient, are an unconstitutional impingement upon free speech. On March 14, United States District Judge Susan Illston directed the government to cease issuing NSLs and to stop enforcing the gag provision in cases in which they have already been issued, but stayed her order for 90 days to allow government a chance to appeal her ruling to the Ninth Circuit Court of Appeals.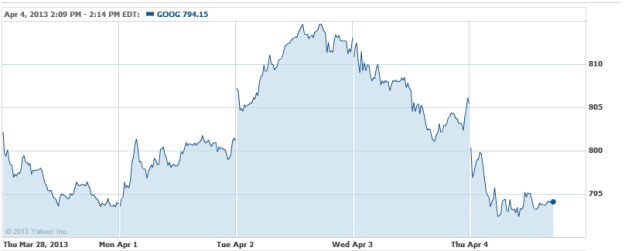 Apple (NASDAQ:AAPL): Current price $428.73
Samsung is poised for a battle with Apple, and will staff mini-stores at Best Buy Co.'s United States locations to highlight how its tablets, smartphones and televisions work together, according to Bloomberg. Beginning April 8, Samsung will open 500 Samsung Experience Shops inside Best Buy, requiring around 460 square feet of prime space near the front of its largest stores, said Samsung said in a statement on Thursday. Financial terms weren't disclosed.

Don't Miss: Can Samsung Use Best Buy to Leapfrog Apple?