Apple Finally Owns Japan
Word on the street is that Apple (NASDAQ:AAPL) needs to do something special to make inroads into markets that are relatively newer for the company. China, Brazil, and India may still hold some mysteries for the iPhone maker, but it appears there is one Asian market the company has finally conquered.
According to fresh data from Counterpoint Research, Apple sold more handsets in Japan than any other phone manufacturer during the last calendar year, a first for the company. Apple rode high on big demand for the new iPhone 5, beating not only global rival Samsung (SSNLF.PK) but also traditional Japanese top-sellers Sharp and Fujitsu.
Apple's iPhone accounted for 15 percent of the entire Japanese mobile phone market at the end of the fourth quarter of 2012, and those numbers included feature phones. Sharp — which had been Japan's top cellphone manufacturer for six years straight — and Fujitsu fell behind Apple for the first time ever, each managing a 14 percent share. Sharp has been facing some financial difficulties over the past few quarters.
Other foreign brands, including Samsung and LG, also increased their respective shares in the fourth quarter of the year, with international companies together accounting for more than 50 percent of the market in Japan for the first time ever…
The country, known for its complicated regulatory structure and the continuing popularity of feature phones, had been a tough one to crack for the new smartphone leaders.
"Japan was once considered to be like a Galapagos Island, an isolated terrain, in terms of mobile technology," Counterpoint's report said. "It had its own unique digital cellular technology. It was far more advanced than any market in the world and it seemed nearly impossible for any foreign technology company to penetrate the market … The wave of smartphones has changed the situation now."
According to Counterpoint, extensive marketing of the iPhone 5 from carriers Softbank and KDDI helped Apple tremendously. The market-leading wireless provider, NTT DoCoMo (NYSE:DCM), which does not yet have the iPhone, countered with rival smartphone offerings, but Softbank and KDDI more than made up for it with massive month-to-month gains.
Here's how Apple (NASDAQ:AAPL) traded Wednesday: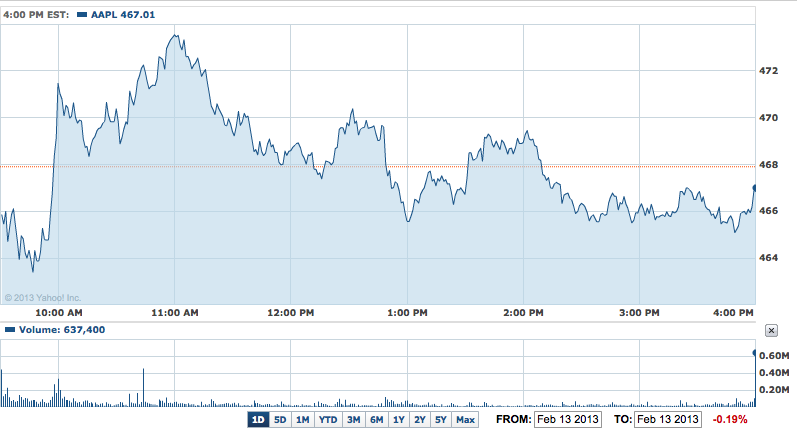 Don't Miss: Does Apple's iWatch Have Its Own Special Team?