Apple Finds Its Footing in China
Apple (NASDAQ:AAPL) and several other global companies are still figuring out how to conduct business and handle public relations in China, the world's second largest economy, in light of criticism of consumer rights.
Ironically, Apple's confidence in its own products may have hindered its initial response to such criticism. According to The Wall Street Journal, Apple released a statement about two weeks after the initial broadcast that explained its warranty policies were "roughly the same as in the U.S. and all over the world" and that Apple offered an "incomparable user experience." This statement was condemned as arrogant and hollow by the official Communist Party newspaper, the People's Daily.
Apple's difficulties started in March, when a television show criticized the Cupertino-based company for allegedly giving Chinese consumers poorer warranty protections than it offers in other markets. Shortly after the broadcast, Apple released a statement saying it "takes customer service in China seriously," reports The Wall Street Journal. However, this statement did little to subdue the criticism of Apple in the Chinese press.
After the second statement drew increased criticism, Apple finally apologized and now offers brand new replacements as part of a one-year warranty for any returned iPhone 4 or 4S models in China. This appears to be what the Chinese authorities were seeking all along. According to China marketing expert Tom Doctoroff, "Brands that have unshakable faith in their own righteousness find it difficult to respond in China"…
Growing public discontent with official corruption in China may also be driving some of the criticism towards foreign companies. Chinese President Xi Jinping, who assumed power last November, has made combatting official corruption a top priority. According to The Wall Street Journal, Coca-Cola (NYSE:KO) has responded to the changing business climate by giving public relations training to its managers in China. Wal-Mart (NYSE:WMT) has increased its employees' awareness of consumer issues in China by promoting officially recognized events such as Food Safety Week.
Apple can ill afford to displease this segment of its consumers. Thirteen percent of Apple's total sales come from the Greater China market, which includes Taiwan and Hong Kong. Apple's total sales in the region reached $6.83 billion for the quarter ending December 29.
Apple moved down 1.16 percent at $422.75 in mid-afternoon trading on Friday.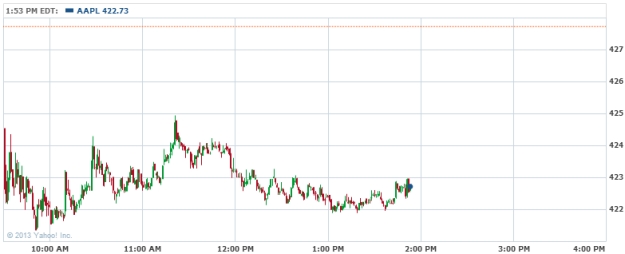 Don't Miss: Apple Grows While Android Slows.