Apple, Google Geek Squads Are Pushing Out These Partying Bankers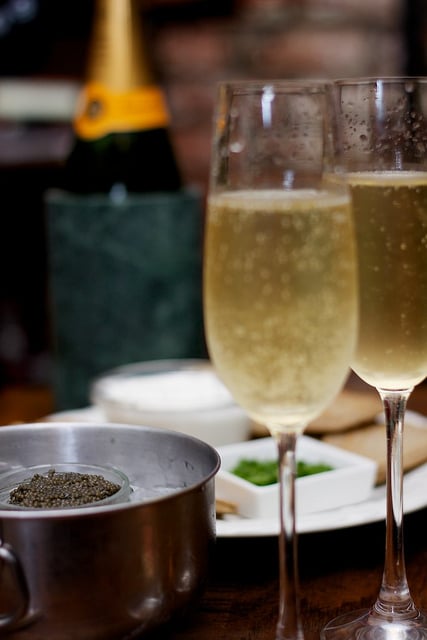 In a sign of the changing times, technology geeks wearing jeans are moving in to Tokyo's business and entertainment spots where bankers dressed in expensive suits previously used to roam. Before the financial crisis, bankers from Goldman Sachs (NYSE:GS) and Lehman Brothers use to fill the offices and bars of Tokyo's exclusive Roppongi Hills complex reports Bloomberg. Now employees from technology companies, like multinational computer hardware manufacturer Lenovo and Chinese web service company Baidu (NASDAQ:BIDU), have taken up residence in Roppongi Hills.
As the bankers continue to depart, the technology and information companies are moving in. Google (NASDAQ:GOOG) has expanded its offices in Roppongi Hills Mori Tower from less than two floors to over three floors. According to Bloomberg, Apple (NASDAQ:AAPL) will also soon be moving its Japanese headquarters from Tokyo's commercial Shinjuku district to the Roppongi Hills complex.
Staff at Heartland bar, which is located in the Roppongi Hills complex; have noticed the difference in clientele. Mai Shioya, the manager of Heartland, has seen champagne-guzzling bankers on corporate credit card spending sprees replaced by laid back tech employees casually enjoying a beer, reports Bloomberg.
Tomohiro Akita, a spokesperson for the owner of Mori Tower, states via Bloomberg that "IT firms are attracted because of the business environment." The plummeting cost of rent probably hasn't hurt either. Bloomberg notes that the cost of renting office space in Tokyo has decreased by over 40 percent since 2008. The Roppongi area alone has seen rents fall 57 percent from the pre-financial crisis peaks of 2008.
Although Goldman Sachs still occupies six floors of the Roppongi Hills Mori Tower, the banking firm is currently in discussions with the landlord as it looks to reduce its office space by two floors. According to Bloomberg, Goldman Sachs cut its brokerage staff from 1,205 to 847 employees between 2008 and 2012.
Lehman Brothers' Asian business was sold to a Japanese company, which soon shifted its operations to the Otemachi business district. Barclays PLC (NYSE:BCS) has also slashed its staff at its Roppongi Hills office.
Tetsuya Sakabe of Kanae Associates Ltd., a financial executive search firm, doesn't think the bankers will be back anytime soon. Via Bloomberg, Sakabe states that "There's no strong demand for bankers in the mergers-and- acquisitions field. And not for debt and equity capital markets, either."
On the other hand, the demand for information-technology workers continues to rise. According to the Japan Executive Search and Recruitment Association via Bloomberg, IT hiring has recently increased 23 percent. The manager of Heartland should probably not bother buying too much champagne and instead work on keeping the beer well-stocked for the new tech employee customers.
Here's how Apple and Google traded this week.
Don't Miss: Will Apple Do What Google Wouldn't in China?