Apple Grows While Android Slows
The most recent smartphone subscriber market share data from comScore seems to indicate that the growth of Apple's (NASDAQ:AAPL) iPhone 5 subscriber base is still going strong, while devices that use Google's (NASDAQ:GOOG) Android platform appear to be on the decline. Brian Loftus, via Philip Elmer-Dewitt at CNNMoney, created a chart with comScore's data that demonstrates the recent gain in Apple's subscriber base.
In a three-month period between November 2012 and February 2013, there were a total of 10.4 million new smartphone subscribers. Of these new subscribers, 2.9 million, or 28 percent, were using Android-powered devices. On the other hand, 8.9 million, or 85 percent of the new smartphone subscribers during this period were using Apple iPhones…
The total percentage of new subscribers reached 113 percent due to Blackberry's (NASDAQ:BBRY) subscriber base shrinkage during the same period. Although there are other OEM's that use Google's Android platform, this data would seem to indicate that sales Samsung's (SSNLF.PK) Galaxy S3 device are flattening while sales of Apple's iPhone 5 continues to increase.
Apple moved down 1.43 percent at $421.59 in early trading on Friday morning.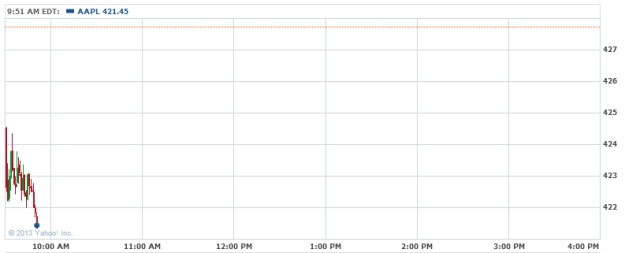 Don't Miss: Here's What Apple Is Spending $5 Billion On, and It's Not a Dividend.