Apple in iBooks Trademark Case — iWin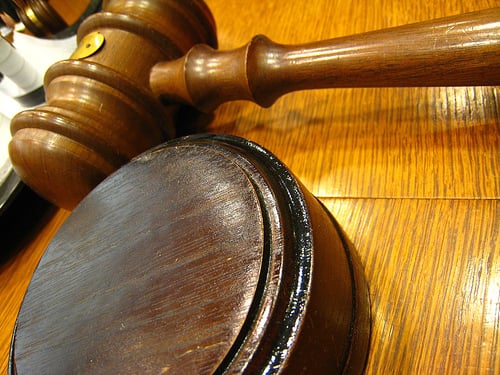 Apple (NASDAQ:AAPL) chalked up another trademark victory today when it won a lawsuit filed against it by a group of small publishers. In 2011, J.T. Colby & Co. Inc. and two of its related publishing companies filed suit against Apple over the tech company's use of the "iBooks" mark. In 2006 and 2007, J.T. Colby & Co. Inc. acquired the "ibooks" mark when it purchased a small publishing company that was selling sci-fi and fantasy books with the "ibooks" publishing mark.
However, even though this company was using the mark, it failed to obtain a registered trademark. Apple first acquired its "iBook" trademark when it purchased a software company in 1999. Although that particular trademark was for a series of computers, Apple bought the total trademark in 2010.
U.S. District Judge Denise Cote, who oversaw the case, granted a summary judgment in Apple's favor after noting that the term "ibooks" was also a generic descriptor for any books sold on the Internet. She also noted that there was little possibility for confusion between the two companies. In the decision made available on GigaOM, the judge wrote, "The plaintiffs have failed to present sufficient evidence that their ibooks mark is entitled to trademark protection or that their mark is likely to suffer from reverse confusion with Apple's iBooks mark."
Apple has definitely seen its share of trademark battles around the world related to various "i" products. It lost a court battle in Mexico while attempting to wrest away control of the iPhone trademark from a Mexican IT company that had previously registered the name. Similary, Apple also had a fight with a Brazilian company which owned the iPhone name in Brazil. Fortunately, the "iBooks" mark is one "i" trademark that Apple was able to easily secure.
Here's how Apple stock has traded so far this week.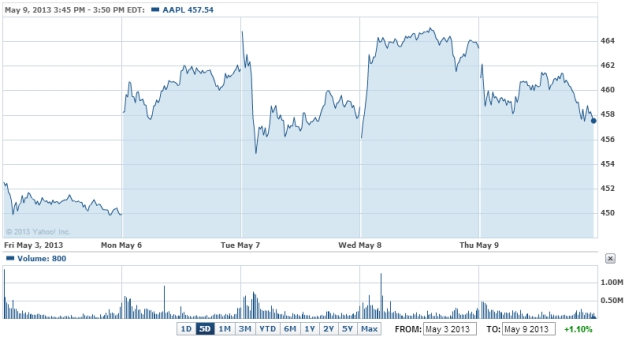 Don't Miss: Jeff Gundlach: No Shorting Apple – For Now.