Apple Is Burning the Midnight Oil for This Project
The Worldwide Developers Conference, scheduled for June 10-14, is barely over a month away and nobody knows this more than the software engineers who are working on Apple's (NASDAQ:AAPL) iOS 7 project. According to anonymous sources via AllThingsD, Apple's software engineers are burning the midnight oil in order to get iOS 7's reworked appearance ready in time for its preliminary debut at the WWDC.
These sources report that Apple has even shifted engineers from its OS X 10.9 project to help the iOS 7 team push iOS 7 out the door on time. Despite the scramble, one source was still assured that "It [iOS 7] will ship on time."
Jonathan Ive, the Senior Vice President of Industrial Design at Apple, is now also in charge of Apple's human interface design. Ive has an unparalleled record of success in hardware design with products like the iMac, iPod, iPhone, and iPad and is now bringing his minimalist design ethos to bear on Apple's software appearance.
Ive's design philosophy is vastly different from Apple's previous software design leader, Scott Forstall, who was ousted in 2012 over Apple's failed Maps app launch. Forstall was an advocate for the skeuomorphic design approach in Apple's operating system, which emphasizes realistic images that resemble their counterparts in the real world. Ive is leading a redesign effort that will strip the "glitz" off of Forstall's software design and replace it with a user interface that more closely meshes with Apple's minimalist hardware design.
Apple's iOS hasn't had a major makeover since the iPhone's debut in 2007 and this could be a make-or-break scenario for the next generation of Apple's mobile operating system. Apple has a reputation for being the standard-bearer in product design as well as user experience and the success of its revamped software could set the tone for several more generations of products. Will the next iteration of iOS be as well-received as its predecessor? Stay tuned for WWDC 2013.
Here's how Apple (NASDAQ:AAPL) traded on Thursday: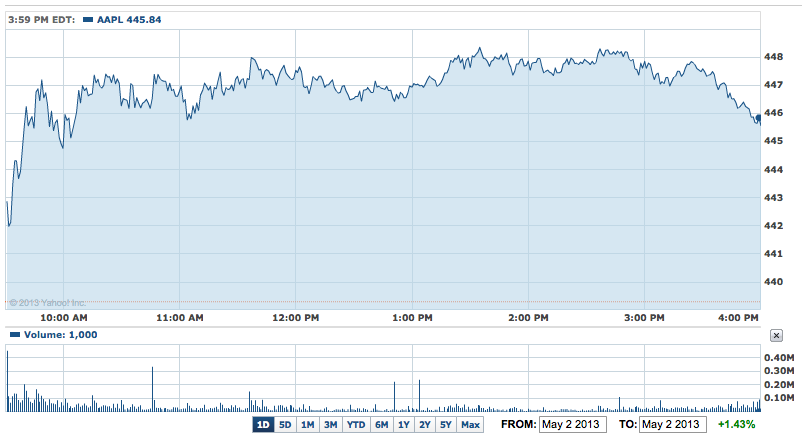 Don't Miss: Is Apple Losing the Tablet Market?